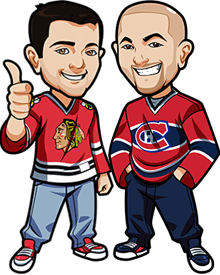 Written by Graeme & Scott on Wednesday, June 19th, 2013
Follow @BetNHL
WOW! Finally a game that didn't require overtime. Boston won the game 2-0 with both goals coming in the 2nd period and are now leading the Stanley Cup Final 2-1. Boston has just been putting on a defensive clinic during these playoffs. Between Rask and the Boston D, it will be hard for Chicago to come back in this series and they must win tonight.
How much did not having Marian Hossa in the lineup hurt the Blackhawks? Well if he had played he brings one of the best 2 way games in the league, is strong with the puck and is an overall great player. Having to scratch Hossa last minute must have hurt the Hawks not only on the ice but in the dressing room also. He has to be the best 2 way player in the game not named Datsyuk.
What will Chicago coach Joel Quenneville do tonight? Will he continue to shuffle his lines? Will he stretch out the talent through four lines or will he load up his top two lines? I mean there is only one Zdeno Chara right? We are pumped for this game as it will be a good one like the others have been.
With that being said here is tonights tip for game number 4 of the Blackhawks vs Bruins Stanley Cup Final:
Blackhawks vs Bruins Betting Tip: Blackhawks To Win
This has been an extremely close series. Even though the Bruins won game 3 2-0 it was still up for grabs up until the last minutes of the game.
With a win tonight the Hawks will regain home ice advantage and turn the series into a best of 3 with the Hawks playing 2 of the final 3 games on home ice. Expect a huge jump in the Hawks game with the return of Big Hoss.
The Hawks simply can't afford a loss here and they, more than anybody, know that. This Bruins team is tough but these Hawks know a thing or two about winning. Remember that this Chicago team put together the best start to a season in NHL history and what a shame it would be for them to at not at the very least make a series out of this.
Plus with 2.15 betting odds at Bovada this is not only a good bet but a valuable one also. The Presidents trophy winners getting above even odds is something we will bet on all day!
Bonus Tip
If you think that the Blackhawks will come back and win the series now is the time to bet it. The odds have changed dramatically for a Blackhawks cup victory and they currently sit at 2.90. If the Hawks win tonight expect that to change to about 1.90. Place this bet at Bet365 (Americans: We recommend http://www.bovada.lv
Follow @BetNHL
BetNHL.ca » Tonights Tips »