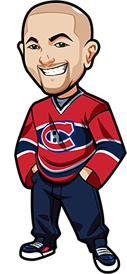 Written by Graeme on Wednesday, May 28th, 2014
Follow @BetNHL
It was a great winning night last night, both for the Habs and us where the betting tips were concerned!
We went with the Habs in regulation, and they of course won that in fine style for a great win at 2.45 betting odds.
We also had Goal Before 9:30 at 1.83 odds and it didn't take long for the first goal in the game. Our only loss was on Brassard anytime goalscorer who I believe was the only player on the ice not to score yesterday!
Seriously though – what a mental game. And now it makes Game 6 all that more interesting tomorrow night. I can't believe the Habs blew the lead 4-1 but then to come back and win was amazing. Just thinking about Game 6 I feel weak – so bloody nervous. I might not even watch it – just tune the world out, play some XBox and then check in after the game.
Onto tonights game, the Chicago Blackhawks vs the LA Kings. Game 5 in the series, with the LA Kings up 3-1 after some massive games. What a fixture this is going to be.
Let's look at the betting odds and then get on with the tips:
Game 5: Blackhawks vs Kings Betting Odds
Blackhawks to Win: 1.68
Kings to Win: 2.25
Over 5 Goals: 1.95
Under 5 Goals: 1.86
Odds taken from http://www.Bovada.lv for Americans and http://www.Bodog.eu for everyone else.
Game 5: Blackhawks vs Kings Betting Tips:
This is an interesting one. First, I don't think it's worth betting the Over/Under 5 goals in this game. I've said it before – only go with that if it's above 2.00 odds. I know many of you will be tempted after last nights game, and with the Blackhawks being in the exact same position as the Habs. I'd be careful though. Game 1 in Chicago had just 4 goals, and Game 2 was a bit of a freak one.
Honestly though it's also not a horrible bet. I personally won't be betting it – but I'd give a mild recommendation for it. If the Kings can light up the Blackhawks early then that can change everything. Just remember the way Chicago tightened up against the Wild in Game 6 of their series.
For the game itself – it's hard to argue against the Blackhawks with those betting odds. I'd go with them to win in regulation at 2.10 odds. If they win tonight, surely they win in a nice professional and decisive style.
Blackhawks vs Kings Betting Props:
If you're looking to bet the Goal Before 9:30 – both games in Chicago had goals after 9:30, in the 14 minute mark.
The odds on that are 1.86 so some value there. You can bet that at http://www.Bovada.lv for Americans and http://www.Bodog.eu for everyone else..
I'm going with goalscorers. Anytime goalscorer for Tyler Toffoli is 4.95 odds. I think that's a pretty decent price. I also like Toews to score 2.85 odds on that. I'd go with both of those. Toffoli gets a lot of chances on the road, and Toews usually steps up in situations like this.
Bet this at Sports Interaction (Exclusive: $20 Free Bet for Canadians) or for Americans try out Bovada and everyone else Bet365.com..
Follow @BetNHL
BetNHL.ca » Tonights Tips »