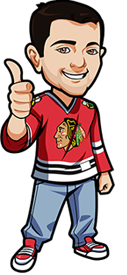 Written by Scott on Friday, May 30th, 2014
Follow @BetNHL
Well what can you say. The Habs got dealt a shitty hand and they did the best they could with it.
This series would have been much different had Carey Price not been injured. Tokarski did a good job but he is no Price. But with that said the Rangers deserved to win this series. The were the much better team and even with Price I'm not sure the Habs could have stopped them.
Congrats to Montreal on a great year and a even bigger congrats to the New York Rangers on being the winners of the 2014 Eastern Conference. After the start in the season they had it's truly remarkable that they made it this far.
Let's have a look at the odds for tonight's massive game 6 between the Hawks and the Kings:
Chicago Blackhawks vs Los Angeles Kings Betting Odds:

Hawks To Win: 2.25
Kings To Win: 1.69
Over 5 Goals: 1.77
Under 5 Goals: 2.10

Odds courtesy of Sports Interaction
Chicago Blackhawks vs Los Angeles Kings Betting Tips:
As always anytime the over/under is at or better then Even we gotta jump on it. For the under tonight we are getting 2.10. Good value for a coin toss.
Now onto to the game itself. This is tough to predict on one hand you have the Hawks who gained some valuable momentum in their game 5 victory. They have been down in series before and were able to come out on top.
But on the other hand you have the Kings who have shown this year that they are a strong team that can take the series the distance and come out victorious.
For value and experience alone I'm going to suggest the Hawks. If they can win this game then they gain even more momentum heading back home for game 7.
Whatever you decide to bet, be sure to place it at Sports Interaction
Chicago Blackhawks vs Los Angeles Kings Player Prop:
By now you know the drill. Sports Interaction has awesome player props on who will score or who will score the first goal.
For tonight we are going to go with Chicago captain Jonathan Toews. He scores when it matters most so I expect a monster game from him. Getting 3.00 odds for a Toews anytime goal. Also getting amazing 11.00 odds that Toews is the first goal scorer. I'm betting both
Follow @BetNHL
BetNHL.ca » Tonights Tips »