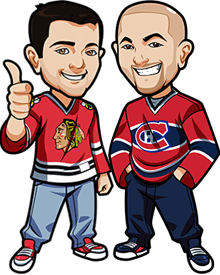 Written by Graeme & Scott on Friday, June 5th, 2015
Follow @BetNHL
Game 1 of the Stanley Cup is over – and it was quite an interesting game.
The Chicago Blackhawks couldn't carry their momentum from the previous game into it. Instead they showed up flat. The Tampa Bay Lightning took full advantage to go up 1-0 early.
Then they decided to stop.
After that 1 goal lead, Tampa sat back. And back. And back. They were so deep a couple of their players could have been sitting in the stands drinking beer and eating overpriced hot dogs.
They wanted to frustrate the Blackhawks and with their fast offense work on counter attacks. It's a strategy that almost worked – they had a good couple of changes – but when you give the Blackhawks that much time in your zone you're asking for trouble.
That's what happened as the Blackhawks got back into the game and took the 2-1 lead which held strong.
It makes for a very interesting game 2. Will the Lightning play differently if they get a lead? Are the Hawks going to come out on fire? And if so, will the Lightning be able to deal with them? A more fired up Hawks should mean more penalties – which is not something they want to give Tampa. Going to be an interesting game.
Blackhawks vs Lightning Game 2 Betting Tips:
Scott: The Hawks won game 1. Well the Lightning lost game one I should say. They had a 1-0 lead with less than 7 minutes in the game to have the Hawks score two quick goals and they held on for the 2-1 win.
As much as I want the Hawks to win game 2, I think the Lightning will make this a much closer game. In the first period the Lightning were all over Chicago. But once they gained the lead the went into a defensive game plan which allowed the Hawks to come back and win.
For this game I'm going to go with Over 5 for 1.74. Sure the first game was low scoring but I expect things to open up in this one.
Graeme: I'm with Scott on that. This series should have more than 50% of the games going Over 5 I'd expect. Right now it's the safe bet – there are just too many questions at the moment in regard to who will win.
Both goaltenders are streaky and they can have a tight game like they did in Game 1, or they can have a loose game. I don't expect Tampa to sit back like they did in Game 2. I'm hoping for a more fighting performance from both teams, and that can only mean goals. Over 5.
Help us out and sign up at http://www.5Dimes.eu for Americans(Need to register to see lines) and and http://www.Bet365.com for everyone else..
Follow @BetNHL
BetNHL.ca » Tonights Tips »