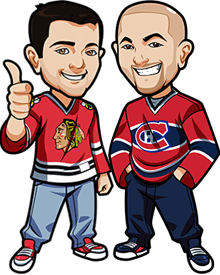 Written by Graeme & Scott on Wednesday, June 10th, 2015
Follow @BetNHL
The NHL returns tonight with Game 4, as the Tampa Bay Lightning take on the Chicago Blackhawks.
The Lightning went down 1-0 in the first game, but have rebounded spectacularly. They're now up 2 games after a massive win in Chicago last time out. They're going into tonight knowing what a huge victory it would be – if they won tonight, they could wrap this up in Tampa.
But it's hard to count out Chicago. It's also hard to count out stupid fluff articles from NHL.com. Seriously? "Blackhawks capable of comeback" is a top news story? No sorry NHL.com this is over just give the Lightning the Stanley Cup already.
Seriously – the articles they come up with at this point of the season are always bad.
Let's get to the betting tips for Game 4 and remember to place your bets at Bovada for Americans and http://www.Bet365.com for everyone else. where there is a TON of player props:
Blackhawks vs Lightning Game 4 Betting Tips:
Scott: Another great game in game #3. It was the Lightning scoring with just over 3 minutes left in the game to take the 3-2 win. They now lead the series 2-1. For the Hawks they can't let this game slip away from them and take a loss. They win this game and it's a best of three series. I picked them in 6 and I still like it. But for that to happen they need to win the remaining games. And the odds for the Hawks to win the series have jumped to 2.55. After the game, Graeme texted me saying " what was the score of the game, I couldn't watch due to the LIGHTNING STRIKE". I wasn't upset about getting my balls busted but was upset that a friend of mine would use quite possibly the cheesiest line ever. Hawks Win
Graeme: One thing about this series is how fast paced it is – Game 3 was over in a flash! Hopefully we'll see more games in Chicago other than this one though – as that crowd and atmosphere are just electric. However the Blackhawks need to get a win tonight – otherwise their fans could revolt. Blackhawks need to be careful though – their current status is okay – but a loss here would be a shock. There's always a good chance for goals in these games – so I'm going to bolt to my sportsbook and bet Over 5.5 goals.
Follow @BetNHL
BetNHL.ca » Tonights Tips »