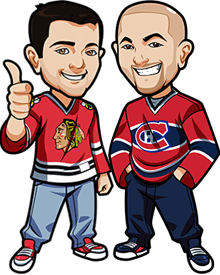 Written by Graeme & Scott on Friday, June 12th, 2015
Follow @BetNHL
Saturday, June 13th 2015 sees us head to Tampa Bay for Game 5 of the Stanley Cup finals in what has been an excellent series thus far.
Chicago took the lead in the series. At that point it was easy to write Tampa off – however the Lightning made an excellent comeback to win the next 2 games. Chicago however tied things up in Game 4, with the Lightning forced to play Vasilevskiy in net.
Now they head back to Tampa for Game 5, and it's a big one. Essentially this series has been cut down to a best of 3 matchup, and it makes it really interesting to watch and very tight. Tampa are the favourites going into tonights game – yet Chicago are the favourites to win the Stanley Cup.
Let's see what we can rustle up for tonight:
Scott: What an intense finish to game 4. Vasilevskiy did a great job for the Lightning only allowing 2 goals. The Hawks looked dead in the first period only registering 2 shots and finished the game with 19 total. If they can find a way to get shots past the Lightning D it would be interesting to see how Vasilevskiy would fare.
The odds for the Hawks to win the series are back down to 1.76 from the 2.55 after game 3. I had called the Hawks in 6 so for that to happen, which I still like, means they win the next two games.
Hawks Win for 2.05
Graeme: The Hawks win is a great price – and one that is hard to ignore. This has really been a 50/50 series – and in a super tight series like this I'll go with the underdog. The lack of overtimes in the games though leads me to believe the best value is regulation time – for either team. I'd take Hawks in regulation.
Follow @BetNHL
BetNHL.ca » Tonights Tips »