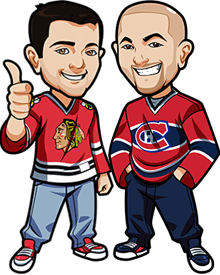 Written by Graeme & Scott on Sunday, June 14th, 2015
Follow @BetNHL
The Chicago Blackhawks need to win just once more – and they will be the Stanley Cup Champions.
They got a crucial win in Game 5 of the finals with a 2-1 victory on the road in Tampa. It was an interesting game that started off very sloppy – and of course you don't get sloppier than the Blackhawks first goal.
It was a very interesting game 5 – with a complete lack of penalties. The Blackhawks got just 2 power plays and the Lightning got just 1. Made for a very fun game and the 2nd period was spectacular in that sense where a whistle didn't go forever and it was a nice free flowing game.
Now we're onto Game 6 – and if you remember, both of us picked the Blackhawks to win the Stanley Cup in exactly 6 games. So hopefully that happens – a nice little payout.
Let's get to it:
Scott: Well here we are game 6 in Chicago with the Hawks up 3-2. This has been the closest finals ever with the first 5 games all being decided by a goal. This is only the 2nd time this has happened. The Hawks looked amazing in game 5, by far their best game so far this series. They will need to continue with that to bring it home in Chicago. We called Hawks in 6 so really what else would I tip for this one. Hawks Win
Graeme: Have to go with the Blackhawks as well. More than anything else – this is a group of players who want to win this damn thing at home. They want to win it in Chicago. It means a lot to them. I think come Game 6 – we're going to see the most focused Chicago Blackhawks in a long time. I feel bad for Tampa on this one. Just like last game – taking Blackhawks in regulation.
Follow @BetNHL
BetNHL.ca » Tonights Tips »