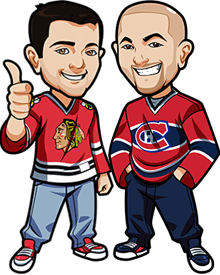 Written by Graeme & Scott on Sunday, June 9th, 2019
Follow @BetNHL
The St. Louis Blues took a 3-2 lead in the series after a 2-1 victory in Boston. The Bruins hammered the Blues net but Binnington put up 38 saves to keep them at bay.
Unfortunately yet again a tight and intense game was marred by refereeing decisions. The Blues seemed to get away with quite a few penalties in that game and some feel the trip from Bozak on Acciari, with Perron scoring the game winner seconds later, was a penalty.
These things generally balance out but it would be nice if the Stanley Cup finals are won fair and clean, as opposed to the result of bad refereeing decisions. These playoffs have already been tainted numerous times – hopefully we have a better Game 6(and possibly 7).
Game 6 is in St. Louis. Here's our thoughts:
Scott Well game 5 was a good one and another where a missed call by the refs seemed to determine the outcome.
The obvious trip by Tyler Bozak resulted in Perron scoring the 2nd goal which turned out to be the game winner.
I called the Bruins to win the series and I predicted them to do it in 6 games. So now that we are in game 6 the Bruins will need to win the next 2. I'm going to back them for tonights game and if they do for the next one as well.
Bruins win incl OT/SO – 0.5u
Graeme: A big factor in this one will be Binnington I believe. It's a case of whether the Bruins can get past him or not.
Bruins will also feel wronged after that last game. That will affect their mental game but whether that will be positive or negative I'm just not sure.
While Chara is a tough mofo, his injury is a big factor for the Bruins as well.
In saying that I'm good with a small bet on the Bruins. I'm not fully confident, but at this stage of the game and with everything on the line they're a team I'd back. Plus hey the refs will probably want to even it out. Bruins win incl OT/SO – 0.5u
Hopefully this won't be the last time we're providing tips this season but if it is – thanks for such a great season! We've had a lot of fun and the comments section this year has been unreal. We appreciate every single one of you and really enjoy discussing hockey with you. Looking forward to next year!
Follow @BetNHL
BetNHL.ca » Tonights Tips »