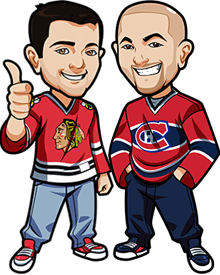 Written by Graeme & Scott on Saturday, May 11th, 2019
Follow @BetNHL
The Eastern conference final started off with a bang. The Carolina Hurricanes took a 2-1 lead in the game only for Mrazek to be lit up in the third period thanks to some very key power plays.
It'll be a very frustrating one for the Hurricanes who are generally very disciplined, and it'll be interesting seeing how that affects things going forwad.
When we discussed that series and provided betting tips, we both went with opposite sides. That was the plan all along plus it was easy for us to do so as we both had opposing opinions.
Unfortunately that's not the case of the Blues vs the Sharks. We got together yesterday to discuss it and see who would take either side – and all we could talk about is how we both liked the Sharks to take it.
So hey it was a short lived experiment. But we realized how difficult it was to try and write about something in terms of tips, if you don't actually believe it. Not that we don't think the Blues have no chance or anything – they do for sure – but we just both strongly believe in the Sharks at this stage of the game. We discussed that a bit more in detail after the Bruins game. "If the Bruins win 3 games in a row how do we actually write that the Canes can win Game 4". Just would feel forced and that's not what we want to do.
Here's our thoughts:
Scott: The Blues are a deep well rounded team who has made it to the Western Conference Finals thanks to Binnington. What makes it even more crazy is they made it through the 2nd round without getting a goal from Schenn or O'Reilly.
The Sharks seem like the more determined team here. They have Pavelski back and have a deep bunch of forwards who can and do score. On defense they are stacked with Burns, Vlasic and Karlsson. They have needed 14 games to get to this point but still look to be the better team and are my pick to move onto the Stanley Cup Finals.
Ill take the Sharks in 6 but I wouldn't be surprised if this series goes the distance. Thornton's presence is motivating for the Sharks and I personally want the Sharks to win it all so he can finally raise the Cup.
Graeme: The Blues are one of those teams that just seem to be off the radar. And they really shouldn't be. They've got a game changer in Tarasenko. They were 1 point off from winning the Central. They went to Winnipeg 3 separate times and won. Then they faced a tricky Dallas Stars team and were still able to pull up the win in Game 7 despite Bishop standing on his head.
Amazong to think that they were last place in the NHL standings just 5 months ago.
The Blues are a very talented team but there are so many factors about the Sharks that just have me backing them. That victory over the Knights for example. Pavelski returning. After a rough start, Jones is killing it.
I just think the Blues offense won't be able to keep up with the Sharks offense over the course of the 7 games.
Looking at it – I think the only game/series changer would be Binnington. The Sharks didn't face him in the regular season and he's coming in off three solid performances. However I've never really felt – other than Game 1 in Winnipeg – that Binnington was the game winner for the Blues and I think the Sharks will be too much for him.
We are both backing the Sharks.
Sharks to Win The Series – Best Odds:
Canada: 1.81 Odds at 888 Sports.
USA: -120 Odds at GT Bets..
Everyone Else: 1.81 Odds at 888 Sports.
Blues to Win The Series – Best Odds:
Canada: 2.10 Odds at Sports Interaction + free $20 bet.
USA: +100 Odds at GT Bets..
Everyone Else: 2.05 Odds at Bet365 (Americans: We recommend http://www.bovada.lv.
Follow @BetNHL
BetNHL.ca » Tonights Tips »