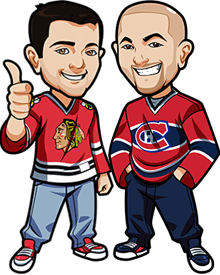 Written by Graeme & Scott on Wednesday, May 29th, 2019
Follow @BetNHL
Game 1 of the NHL playoffs is in the books, and the Boston Bruins are leading 1-0 in the series.
The St. Louis Blues didn't test Rask much but they did what they could, and went up 2-0. Unfortunately for them the Bruins came firing back, and ran out 4-2 winners.
They go into this game with both Thomas and Dunn out tonight.
Thomas had racked up 6 points in the playoffs and Dunn 7 points.
It's going to be a big game for the St. Louis Blues. The Bruins have a big run going and each win gives them that bit more confidence.
The Blues are big underdogs in this one at 2.50 odds approximately.
Here's our thoughts:
Scott: After last game and the way the Bruins responded to not only being down in the game but being off for a over 10 days, the Blues really have their work cut out for them.
Being up 2-0 only to let the Bruins tie and win the game 4-2 shows just how inexperienced the Blues are. A huge moment from game 1 was Krug without his helmet hammering Robert Thomas in the 3rd and it showed the Blues that the Bruins were ready and able to win the series.
I originally said the Bruins in 6 games but after the way they played in game 1 I'm not sure the Blues can win one game let alone two.
Despite the odds – Bruins win incl OT/SO – 0.5u
Graeme: The obvious play is either the Bruins, or not betting the game at all honestly.
Sucks when that is the case and hopefully the Blues can pull it off to liven the series up for the neutrals. Lighting up Rask would be nice.
I feel very pessimistic about the Blues chances but at around 2.50 odds I have to look at it to see if I can justify it. They started Game 1 well and while they couldn't keep the pressure going throughout the period, they were able to limit Boston too.
They got a goal early in the second and then it all went to hell. Sloppy play, undisciplined penalties etc. However they were unable to change things in the 3rd period and really just looked worse.
There are some good things to come out of the game for the Blues. The top line performed extremely well and that's good to see. Problem is the rest didn't.
I just think the opportunity was there and the Blues never took advantage of it. We saw this exact same thing happen in the Hurricanes vs Bruins series. Hurricanes were leading, had a few penalties, Bruins took over and then went from strength to strength.
No Bet. I can't see past the Bruins but I can't bet at those odds.
Follow @BetNHL
BetNHL.ca » Tonights Tips »