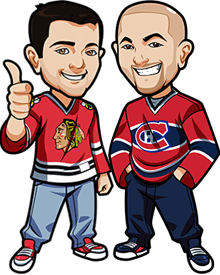 Written by Graeme & Scott on Thursday, May 9th, 2019
Follow @BetNHL
Today begins the Eastern Conference finals, as the Boston Bruins with home ice advantage, take on the Carolina Hurricanes.
The two teams played three times in the regular season. The Bruins and Hurricane both won once in regulation, and in the most recent game the Bruins won in overtime.
The Carolina Hurricanes shocked the world when they beat the defending champions in 7 games in the first round with a 4-3 double overtime winner at the Capital One Arena.
They then made light work of the New York Islanders, sweeping them in spectacular fashion.
The Boston Bruins also had a tough opening round but they managed to beat the Toronto Maple Leafs in 7 games. We saw the best of the Bruins during the Blue Jackets series with their top line stepping up as they went from 2-1 down to winning three straight to get here.
Going forward we are going to be doing something different. We will both be arguing for one side, and why you should bet on that particular side. See – looking back at previous years, there are so many times we either don't tip a game or feel "forced" to tip something.
So instead we will argue for one particular side throughout the playoffs and state why that team should win. Not sure how it will go but let's give it a try.
Why The Hurricanes Will Win The Series:
Graeme: First of all I think you'd be crazy NOT to bet the Carolina Hurricanes. They're around +140 underdogs. That's a great price at this stage of the game.
Look at how hard fought that series was with the Capitals. The Carolina Hurricanes have proven this year they are the most hard working team in hockey and it's all coming to fruition. You might think "Well fatigue will get them after that series". Then they sweep a rested New York Islanders with two dominant performances.
They're also able to overcome adversity. Who was a big factor in the Capitals series? Mrazek. Who got injured in the playoffs? Mrazek. They didn't miss a beat. Curtis McElhinney stepped up big and is an experienced goalie who will continue to step up big.
The Bruins are a one trick pony with their top line. Granted that pony pulls off a hell of an impressive trick – but I like to think the Hurricanes will be able to handle them and that the other lines will make up for it with their hard work.
The Hurricanes play a similar style in the playoffs as they have all season and no team is able to combat it. And a reminder that their power play is brutal at the moment. If that clicks? Anything is possible.
Bruins are overpriced purely because the top line is coming in hot. We've seen them fade away before and the Hurricanes goaltending and defense will be the best they've faced in the playoffs thus far. (Edit from Graeme: Just want to note that is goaltending/defense COMBINED – not individually. I'm not saying McIlhenney is a better goalie than Bob 😉 ). They're going to frustrate the Bruins, and we could see many silly penalties and suspensions. I'm sure the Bruins can win a couple of games here but I like the Hurricanes to take this series, and I think they do it in 6 games.
Why the Bruins Will Win The Series:
Scott: The Bruins have had a couple of tough series to get to this point. They are coming off of a 6 game series against the Blue Jackets where they at one point trailed 2-1. Before that it was a 7 game battle against the Leafs where again they were down 2-1 only to come out winners and move on.
Boston relies heavily on their top line and if the Canes can find a way to contain them then they might have some issues in this series. Thankfully for the Bruins they have Krejci and Coyle also chipping in to ease some of the burden on the top line.
Rask has been great so far this postseason. He has a 2.02 GAA and a .938 save percentage. Mrazek is expected to be back for the Canes in goal at some point and McElhinney has been good in his place going 3-0 but he has always been a backup so with the extra workload who knows how he will respond.
I'll admit it, I never give the Hurricanes the credit they deserve. I would normally say they have no business being in the East Finals but here they are. They beat the Caps and the swept the Isles. But the Bruins don't get enough credit in my opinion. Sure they are a top line heavy team but also have some secondary scorers contributing. They also have the best poweplay in the playoffs where the Canes have a weak penalty kill. And Chara leads the postseason with a +9 rating at 42 years old.
I'll give the Canes some credit and say they win a game or two but Boston will be moving onto the Finals. Boston in 6 games.
Bruins to win the cup best odds.
America: Best odds are -150 atGT Bets..
Everyone Else: Best odds are 1.66 at Casumo.
Follow @BetNHL
BetNHL.ca » Tonights Tips »