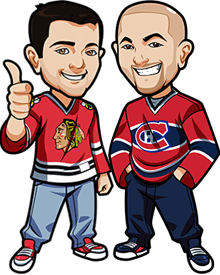 Written by Graeme & Scott on Tuesday, June 29th, 2021
Follow @BetNHL
Game 1 of the Stanley Cup Finals is over with, and it was a solid and confident victory by the Tampa Bay Lightning.
Tampa ran out 5-1 winners with a big third period.
Of course – it's not anything new to Montreal. The Leafs gave them a couple of big thrashings, and the Habs lost 4-1 to the Knights in Game 1. So the series certainly isn't over with.
But by god Tampa look amazing don't they?
There's no denying it they are just a ridiculously stacked team and it is going to take everything they have for the Habs to even make this a series.
Here are our thoughts:
Scott: Looking back at the Canadiens last 5 Stanley Cup appreances they have lost game 1.  Maybe that is a good thing for them.
If this game showed us anything its that the Lightning are a tough team to beat.  Their firepower is just incredible with so many guys who can score its tough to try and "shut down" any line.
The Habs need to cut down their turnovers as that cost them game 1.  With game 2 still in Tampa and the performance they had in game 1 its hard to bet against the Lightning right now but the odds make it a no play for me.
No Bet
Graeme: Game 1 was very disillusioning for a lot of Habs fans. Many who thought we were destined for the cup and were brought back down to earth. It was a good reality check that Tampa are just goddamn good.
I gained a lot of respect for the Islanders after that game – the fact that they went toe to toe with this team and even beat them Game 1.
Of course Tampa aren't invincible here as they lost Game 3 to the Canes at home and lost once to the Panthers too in that 6-5 game. Man – Tampa vs Florida. That feels so long ago.
It would be easy to look back at Game 1 and write the Habs off. That's the one thing you can't do to this team.
At 2.75 odds, I think it's a fair price to back Montreal to win. Game 1 was scary as shit but I think there is value in that price. Quite a few of the Habs just had off days too and they have shown they are a team who can adjust.
Follow @BetNHL
BetNHL.ca » Tonights Tips »