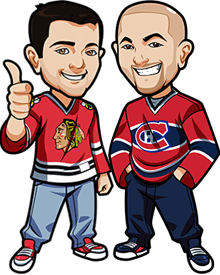 Written by Graeme & Scott on Thursday, July 1st, 2021
Follow @BetNHL
First a quick heads up – our current mailing list server is closing down. Heck it may even have closed down by the time you read this.
We've set up a new, internal mailing list server. We're testing it out with these tips.
What this may mean is you receive duplicate e-mails from us notifying you of these tips. That will only happen once. We just wanted to get everything tested before switching off the old mailing list server.
Be sure to check your junk mail folder as well for the "new" e-mail. Also we advise whitelisting site@betnhl.ca if you want our tips directly to your inbox as junk mail filters can be the worst sometimes.
Also any issues, questions etc in regard to all of that please just let us know.
Game 3 of Canadiens vs Lightning takes place on June 2nd. Montreal played an excellent game and it was for nothing as Tampa managed to get the win. You just can't make mistakes against this Tampa side.
This one will take place at the Bell Centre. Unfortunately, Quebec sucks and won't let in more fans. It is what it is. Here are our thoughts:
Scott: Montreal had a better game in game 2.  They made Vasilevskiy make a playoff career high 42 saves but he looked great.
The winning goal was a buzzer beater at the end of the 2nd when Coleman scored to save the Lightning who had their worst period of the playoffs
With the series moving to Montreal, hopefully the Habs will get a win here.  The asked to increase the allowed fans to 50% capacity and were rejected so they again will have only 3500 fans in seats which is the same number they had in round 3 against the Knights.
If Montreal are to win a game in this series it has to be here.  The can't go down 3-0 to the machine that is the Lightning and expect to have any chance in the finals.
Canadiens win incl OT
Graeme: Game 2 was so frustrating to watch. Montreal played so bloody well. That goal right at the death of the 2nd period was brutal.
Their inability to beat Vasilevskiy was frustrating as well. He had a GSAE of 2.59.
At the other end, Price is struggling just a tad as well. Then you have the fact that against Tampa you just cannot afford to make mistakes because they WILL punish you. That third goal basically summed all that up.
I don't know if I even feel good betting the Habs at 2.15-2.20. Based on these two games so far? Tampa scare me man.
They WERE the better team in Game 2. They ARE at home. They have faced adversity before.
That might be enough to back them at above coinflip odds. I believe they have lost only one game at the Bell Centre since fans have been allowed back.
Habs to win is probably a marginal enough bet to make but I can't make it.
No bet for me. I was going to do a player prop – loved Suzuki that last game but then it's like 0 shots in Game 1. There are no lines yet but I will look at player props tomorrow and myabe pick something in the comments.
Follow @BetNHL
BetNHL.ca » Tonights Tips »