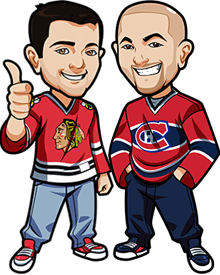 Written by Graeme & Scott on Tuesday, July 6th, 2021
Follow @BetNHL
THERE WON'T BE A SWEEP!
The Montreal Canadiens – who seemed completely unable to win in overtime during the regular season – were able to pull off the overtime victory in front of their home crowd.
Honestly it was one of those things where during the day – you just had that feeling. With the Tampa mayor wanting to see them win it at home etc. It just felt fitting, and it was great for the Habs to get that win.
One of our friends was telling us that it's all a big conspiracy to generate revenue and viewers. That the NHL is hurting bad so they're going to make this one go to Game 7.
Then they added that the cup will be won by Montreal, because it needs to come back to Canada as it's where the merchandise money is.
As two guys cheering on the Habs like our live depend on it – man, we'll take a fix! Anything to help the Habs against this team!
On a serious note – very nice of the Habs to get that win. They fully deserve it after everything they have gone through to get here. Will there be more? Man who the hell knows.
Here are our thoughts:
Lightning vs Canadiens Game 5 Betting Tips:
Scott: Well at least the Habs didn't get swept.  They traded goals and it was Anderson who scored the OT winner which was his 2nd of the game and the Habs won 3-2 in overtime.
For the Lightning I don't want to say they threw the game but maybe they weren't trying as hard so they could have their home fans and, more importantly, their family's there to watch.  When they won the Cup last year they were in the bubble in Edmonton and it was restricted access.
Now sure the Habs could catch fire and rattle off a few wins in a row, but it's going to be hard.  They have been outscored in the series 16-8 and Vasilevskiy has been amazing.
I think the Lightning wrap it up in this game.  With game 4 the only exception, they have won each game with relative ease.  The only question is Lightning regulation win or  -1.5?  Playing in front of their family is going to be a huge motivation for them.
Lightning -1.5
Graeme: Based on the way the playoffs have went – if any team could come back from 3-0 down and perform a reverse sweep – it's Montreal.
But I just don't buy it.
This Tampa team just seem too good. It just seems inevitable. A gentleman's sweep which is on the cards just seems so perfect. It gives Montreal that one win for the fans to cling onto. Lightning get to win it at home. Montreal will hopefully not burn in flames if they don't lose the game at the Bell Centre etc. It just seems like it was meant to be.
I loved the story of the Habs packing their bags for Tampa before the game. Little things like that always give me goosebumps.
It could have been a whole different Game 4. Carey looked very sharp especially early when Tampa came out looking for blood.
Honestly I feel like it was just delaying the inevitable. Habs are about 3.00 odds – me and Scott both backed over 5.5 games so I have that riding and am cheering on the Habs win just for that.
As for whether to bet on the Habs or not? Man I don't know. Mentality is a big deal. That overtime win might have fired up the Habs.
It's one of those things where I already have the one bet riding so I'll personally let it go. I could easily sit here and justify both Tampa -1.5 or Habs to win. Both prices seem fine. I'd lean more towards Habs to win just based on the odds.
I do think it was just more a mentality thing than anything else – but man if any team can overcome it or at least get the win here – based on these playoffs the Habs can.
Follow @BetNHL
BetNHL.ca » Tonights Tips »