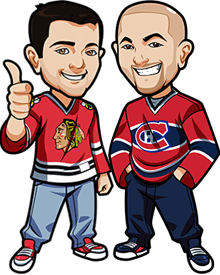 Written by Graeme & Scott on Sunday, June 27th, 2021
Follow @BetNHL
Game 1 of the NHL 2021 Stanley Cup Finals are upon us.
It features the Montreal Canadiens vs the Tampa Bay Lightning. It's been an incredible journey for both teams and regardless of what happens – let's just hope for some awesome freaking matchups.
It's a busy schedule with only one day break between most games. Tampa of course have home ice. No Saturday night hockey too which sucks. They should have pushed Game 3 until Saturday but maybe they'd be concerned that would just add to the Montreal riots.
No surprise – the Habs go in as big underdogs. They've been big underdogs the entire playoffs.
Here are our thoughts:
Canadiens vs Lightning Series Betting Tips:
Scott: The Lightning are the favorites here by a big margin. And I get it, they are the defending Stanley Cup Champs.
To get here the Canadiens beat the Leafs in 7 games, the Jets in 4 and the Golden Knights in 6. The Lightning beat the Panthers in 6 games, the Canes in 5 and the Islanders in 7.
The Lightning have Stamkos, Point and Kucherov as their main offensive weapons but they also have great depth guys with Gourde, Coleman and Palat to give them a deep group. Hedman is the guy on defense where he is joined by McDonough and Sergachev to form a strong defense.
In goal Vasilevskiy is a beast. He has a 1.99 GAA with a .936 save percentage and 4 shutouts during this postseason.
But the Habs also have a strong team. The have Caufield, Suzuki and Kotkaniemi as their youngsters, Toffoli, Anderson and Danault round out their top 6 forwards. They also have Byron, Gallagher Staal and Perry which gives them some nice depth. On D Weber is still a great player despite his age. He is joined by Petry, Edmondson and Chiarot to give them a solid top 4.
Carey Price is playing out of his mind in these playoffs. If his team can score at least 3 goals then it's almost a guaranteed win for the Canadiens.
The Habs have embraced the underdog role and are thriving. On paper the Lightning should win this series and the Cup but if Montreal has shown us anything its that you can't count them out.
I like the Habs, and Price, to give the Lightning a tough time in the finals. I want them to win and bring a Cup back to Canada for the first time in almost 30 years. But the Lightning are a deep offensive powerhouse. This should be a great series.
Over 5.5 games
Graeme: I still remember when I placed my bet on the Habs to win the series over the Leafs. I thought I was just burning that $2k. Then they won and I figured well the Jets will blow us out but that's okay – I always have this to hang onto.
I mean look at this beauty:

At the time I was busy laughing at how much the Leafs suck – but man at the end of the day it's not their fault; we're just so good we made it look like it was their first time on skates.
I had to go back and rewatch some of the highlights from earlier in the season. Back in late January when Money Puck gave Habs the best chance to make the finals along with Tampa. Back when I was referring to Habs and Leafs as the "elite" of the North. These last few months – due to injury and I expect just the monotony of the schedule – had realy made me forget that sort of perspective.
I still don't know if the Habs can win. Like I said I am a born pessimist. But my god this really feels like a special team and one that deserves to win. They just have that sort of team chemistry and mentality where they are all fighting for each other etc. It really feels like something special.
Just based on everything – mathematically the Habs are the best play. I mean I said that against the Knights. Game 5 was an absolutely ludicrous price. This is similar. Of course Habs going up against a hell of a goalie here.
I can't quite back the Habs to win myself. For me it's more looking at that over in games or it being a competitive enough series.
I like Scotts bet too of Over 5.5 Games.
Best odds for it are -150 at BetOnline. which is 1.66 odds.
We'll also list the best odds for the Habs to win the series. Like we said its the best mathematical play of the two teams to win – might as well get the best odds for it:
Canada: 3.25 Odds at Bet365 (Americans: We recommend http://www.bovada.lv.
USA: +225 Odds at BetOnline..
Everyone Else: 3.25 Odds at Bet365 (Americans: We recommend http://www.bovada.lv.
(Odds correct as of 2021/06/27 11:51:38 AM EST but are subject to change.)
Follow @BetNHL
BetNHL.ca » Tonights Tips »