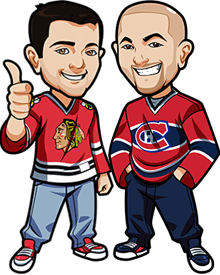 Written by Graeme & Scott on Wednesday, June 6th, 2018
Follow @BetNHL
There could be just one more game left in the Stanley Cup Finals.
After losing Game 1 6-4, the Capitals have turned things around and won three games in a row. There was a very tight Game 2 in Vegas, a quite dominant 3-1 victory in Washington where the Knights just didn't show up, and then an even more dominant performance in Game 4 as Washington went up 3-1 in games. They thrashed the Knights 6-2.
So it could all come down to this game. The Golden Knights for all their accomplishments have been generally outclassed throughout the Stanley Cup thus far. "Men against boys" really applies here and that's not a knock on Vegas but a compliment to the Washington Capitals.
The Capitals look hungry and they look like they want this one bad. Of course how bad do they want it? Is being on the road going to affect things? You'd prefer to win it in front of your home fans of course but after the last couple of games it's hard not to go with the Capitals.
Quick note in case this is the last time we talk to you with actual tips – Graeme just launched a soccer tips website just in time for the World Cup(and beyond). He's had sites dedicated to Euro 2012 & 2016 and the last World Cup in the past but now has started this soccer tips site to cover everything. He'll be tipping every game in the World Cup so be sure to check it out at BetSoccer.ca and subscribe to the free tips.
Capitals vs Knights Betting Tips:
Exclusive Promotion for Canadians: 25/1 Odds there'll be a goal in the 1st period.
This is at Sports Interaction and is only available to people who do NOT have an account there. On top of that, you also get a 100% Deposit up to $200.
It's pretty simple – bet $1 that there will be at least one goal in the 1st period. If there is, you win $25. Then you get the $200 deposit bonus match as well.
Single bets only and this is a new promotion for them so how it will work is if there is a goal, the bet will voided then the customer service team will credit your account manually on Friday June 7th by 5pm EST with the winnings. (No need to request it they'll keep track and do it).
And if you run into any issues you can hit us up at site@betnhl.ca and we'll get it sorted.
Sign up and place your bet here. It'll state 26.00 odds on the page.
Scott: I said it would be interesting to see how the Knights responded to losing two in a row.  Well I didn't expect them to do that.
The Knights sure pounded the goalposts but that wasn't going to cut it.  And after the initial burst by the Knights the Caps got down to business scoring 4 unanswered and came away 6-2 winners.
With the series going back to Vegas I would have to think the Knights win this one or it's all over for them and the Cinderella story comes to an end.  But with this version of the Caps it's tough to say.  Sure they would like to win the Cup on home ice but if the Knights win this game then they will have only 2 more chances to end the series.  I still like the home team Knights chances though.
Knights win incl OT – 0.5u  
Graeme: I love the Knights and I hope they win but yet again when it comes to the betting tips me and Scott are opposed in regard to the winner.
Just look at the Caps performance so far. This is a team that is red hot. There's a common betting theory going around that they won't want to win this one – they'd rather win it in front of their home fans. And hey I'm sure they would but this team is red hot. Guys like Oshie and Ovi are absolutely amazing right now – they just look so hungry and up for it.
There's also the concern the Knights just can't handle it at this stage. I've been disappointed with them as they aren't working as hard as we know they can.
With the price and the performances so far I'm good to bet Capitals to win incl OT.
Follow @BetNHL
BetNHL.ca » Tonights Tips »