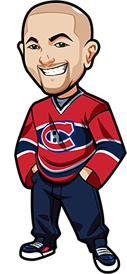 Written by Graeme on Thursday, October 8th, 2015
Follow @BetNHL
One thing we routinely do here at BetNHL.ca is talk to an online sportsbook linesmaker, and get their input on the NHL and betting within the NHL.
It's a great way to get into the minds of the people who set the lines, and get an idea of what's going on in the hockey betting world. Normally we only see it from the punters side – so it's really cool to get into the minds of the people that actually set the line and take our action.
That online sportsbook is the Canada only Sports Interaction. They only accept bettors from Canada – so it's even more interesting because the odds are always different there when Canadian teams are in action.
This will be a regular interview once a week during the season. And if you're Canadian – seriously, $125 free on your first deposit AND a $20 free bet. PLUS mobile betting AND live betting throughout the game. Sports Interaction
Alright let's do this weeks chat:
BetNHL.ca: The Blackhawks go into this season looking to defend the Stanley Cup, but it's a bit of a different team than the one that won the cup last year. Can they do it again?
Sports Interaction: The Blackhawks are currently the 2nd favourites at +800, just behind the Ducks at +700. However honestly we're not seeing a lot of action on them. We think that all of the roster moves during the offseason, coupled with the Kane issues are scaring people away. They want to wait and see if the Blackhawks still have what it takes.
It's very close other than those two though – with a lot of teams at +1000 all competing for the action like the Penguins, Canadiens and Rangers. There's some nice value to be had though – we think Capitals at +1700 and Predators at +2000 are both worth a look.
BetNHL.ca: One awesome future that Sports Interaction offers is team points over/unders. How does this factor in with the cup futures and is there any big differences?
Sports Interaction: You'll usually see a similar ratio in terms of highest point amount compared to their futures standings but there are certainly some differences. Like the Tampa Bay Lightning line is set at 104.5 while they aren't in the top favourites to win the cup. This is where we have to factor in regular season performance vs playoff performance.
Also we've got a new low since we're offering these – the Coyotes at 62.5 points.
BetNHL.ca: Obviously Canadian teams get a lot of action at Sports Interaction. How's it looking?
Sports Interaction: Not good for the Canadian teams. Despite a huge Canadian playerbase the only team they seem confident in is the Habs who are -245 at the moment. All of the other Canadian teams? If you believe our player base they'll be playing golf a lot earlier than most next year.
It's not a sure thing though – it's not like they are all writing them off. They still consider Senators, Flames, Canucks and Jets with a chance.
BetNHL.ca: Sports Interaction have added a TON of new player props this season. Who are the people the bettors should be looking at?
Sports Interaction: It's going to be crazy at the top of the scoring charts we expect. Crosby is set for 89.5 points with Benn and Seguin at 88.5.
BetNHL.ca: Thanks guys. See the full list of incredible props available at SportsInteraction.com.
Follow @BetNHL
BetNHL.ca » Tonights Tips »