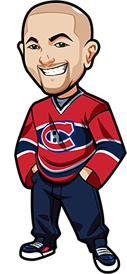 Written by Graeme on Friday, December 10th, 2021
Follow @BetNHL
A 1-1 night for a slight loss yesterday.
Fleury got his 500th win as he shut out the Canadians. He is only the third goalie in the history of the NHL to reach 500 wins. Very impressive and it was super cool seeing the Habs fans chanting his name at the end of the game. Respect.
Oilers slump continued. That should have been a good spot to get a win and I'd say they were generally the better team. Just couldn't get by the goalie. Skinner was in the net but it wasn't his fault; just very bad defensive coverage.
Let's see what we got going on today:
Capitals vs Penguins:
Quite a few key players missing from this game whether via injuries, or good ol COVID protocol. The Capitals also called off Wednesday practice and I know Hagelin didn't practice yesterday.
All that crap makes it an easy enough skip for me. Pens are ticking right now and if the Caps are missing some players it could make it easier for them – but it's tough to back the Pens.
Sabres vs Rangers:
Rangers suffered their first loss in a while against the Avs, and have had a day off to sit on it. They're on the road here where in recent times they have beaten – well a lot of teams.
They had that brief road slump in Canada with the loss to the Flames, going to OT with Oilers & Canucks.
Sabres are nothing really special at home. Sometimes they put in a good offensive performance but they've still been outscored (Jackets, Leafs). They put in a similar offensive performance back in November at MSG, but the Rangers outscored them 5-4.
Rangers coming off that nice winning streak though and you never know how a team will react to it.
Basically, I'd have to take this one in regulation. But the Rangers streak ending is a cause for concern and also considering how tight the game was in New York. Have to skip this one.
Devils vs Predators:
I've decided not to touch the Preds for awhile. Happens every season. They just had that huge win over the Islanders last night. Crazy comeback victory that.
I'd be slightly tempted by the Devils if they were a better price but at 2.10ish odds it's certainly not worth it.
Avalanche vs Red Wings:
The over was obviously my first thought going into this one, but the line is set at over 6.5 goals which is pretty darn big. Not saying it won't happen though based on the way the Avs are playing at the moment.
The Avs handicap cover is also tempting but very poor odds on that too at about 1.76.
It's hard to take the over with the Wings a bit battered with injuries, and Bertuzzi and Staal potentially out tonight.
I hate the odds, but I think Avs -1.5 is fine here. I don't know if the Wings can keep up with them. Empty net stats have the Wings conceding 6 in 12, and Avs scoring 5 in 8 so good enough.
As of this writing, a lot of sportsbooks don't have odds for the -1.5 so you might want to wait and see if BetOnline. do better odds.
Canada: 1.78 Odds at Casumo
USA: -130 Odds at Bovada.
Everyone Else: 1.78 Odds at Casumo
(Odds correct as of 2021/12/10 7:19:55 AM EST but are subject to change.)
Coyotes vs Panthers:
If we were to take the Panthers it would have to be -1.5. Just don't have the faith in them to cover that at the moment. Especially with Duclair out and Barkov – not sure what is going on there and whether he will play or not. I just have a gut feeling we see the Coyotes step up tonight too. Yeah no bet.
Knights vs Flyers:
Knights on a tear at the moment. Wins over the Stars, Flames and Coyotes see them bring a three game win streak here. Flyers – well life is just miserable for them.
The chance with Yeo temporarily taking over hasn't really changed anything or helped. That game against the Devils was just sad to watch.
I'm not convinced about the handicap though. Lehner was at fault in the last game he played and he concerns me this season a lot.
We generally don't go below 1.70 here. Best in regulation odds I can find is 1.67 at Casumo. I think if Brossoit is in net I'd take it. If Lehner, I'd give it a miss.
Canucks vs Jets:
We know the Jets can show up and disappear like a Magician with a hat and a rabbit. Based on that, at slight underdogs above the coinflip line they might be worth a play. I'm not interested in it though. These two teams played here back in November and Vancouver won 3-2 and I don't really see anything different from Winnipeg to suggest they are worth a bet.
Follow @BetNHL
BetNHL.ca » Tonights Tips »