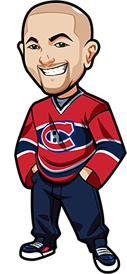 Written by Graeme on Saturday, December 11th, 2021
Follow @BetNHL
Hi guys,
A 1-0 night last night as the Avs covered the handicap with ease. It was a very fun game with the Avs running out 7-3 winners over a feisty Red Wings team.
The Flyers ended their brutal losing streak with a big win over the Knights. I mentioned yesterday I may back them if Brossoit was in net. By the time I saw he was announced, Knights were down to a ludicrous 1.57, so thankfully the sportsbooks saved me from betting that one.
It was a great night of hockey with a lot of close games. Now we have our usual big Saturday slate. Whew. I'm so happy Christmas falls on the weekend this year. Will be nice to have a chill Saturday. In saying that – my god the slate for December 23rd is insane with 15 bloody games. Yikes.
Let's get to it – two plays today.
Senators vs Lightning:
Sens fought hard against the Islanders but couldn't get the win. They've had some good performances lately. For any value, we would have to take Tampa -1.5. Not one I'm super confident about. Early afternoon game, Lightning playing their 7th road game in their last 8. That can wear on a team.
Senators also have more rest. It's weird when it comes to underdogs like this. I've nailed a few big underdog plays at this price this season – but it's like they just jump out at me. This is more one where I definitely think there is value in the Senators line, and I feel they could pull off an upset – but I have to try and look at a lot of data to convince me of that.
There just isn't enough to convince me. It's an early game, I'll be watching it so will probably chuck something on the Sens – but not something I can advise.
Sabres vs Capitals:
Another heavy road favourite where we'd have to take the -1.5. Easy enough to skip this one based on the Capitals last five games. Their record on the handicap against the weaker teams isn't too shabby but they're missing so many players at the moment.
Buffalo are another where, man, I'd like to back them here. It's a great little spot for them., It's probably and could even be +EV, but I can't advise.
Blues vs Canadiens:
Blues come in off a nice big win over the Detroit Red Wings. Habs come stumbling in not doing well at all.
This is one where the handicap is more appealing, with the Blues being at home. So let's see – first the empty net stats. Habs played with it 13 games, conceded 8, and scored 0. That's a good sign. Blues played against one 9 times, scored 5, and conceded 3. That concession amount is a slight cause for concern.
Habs lose by 2+ goals more than 50% of the time in losses. Blues have been struggling a bit this season with a lack of consistency, but when they win they normally do so in good fashion.
The one big concern of course is the amount of Blues players either injured or in COVID-19. They had 17 skaters for their last two games. Mental.
The Blues seem to do very well at home. They're missing players but they're showing the right attitude on the ice. You DO have to be concerned about those random times the Habs show up.
Lindgren is projected which is a concern simply because we have really only seen one game.
This is not a great spot and I've stated the negatives. The Blues also host the Ducks tomorrow so you have to wonder if they go full effort or if that is in their mind. A lot of negatives.
I had this one actually written out ready to take the Blues regardless of everything I've mentioned – but when I went to retrieve the odds, I ended up having cold feet on it. So no play.
Leafs vs Blackhawks:
Leafs will look to bounce back after that Tampa Bay Lightning loss. They're going up against the Chicago Blackhawks who got their first regulation win in a few weeks, as they beat the hapless Habs 2-0.
Yet another game where a team is heavily favoured. Noticing a trend today. Leafs are going to go with Mrazek it looks like, Blackhawks with Lankinen.
Based on the last few games involving the Leafs, the over looks good. The concern is the Blackhawks offense. If we run it back the last 8 or 9 games, well actually their offensive metrics aren't as shocking as I'd expected. Around 10th worst. Similar to the Jackets in a few who got 4 past the Leafs.
I just have too many concerns about the Blackhawks team to back the over as not confident they can contribute enough. I should note these two teams often have some real barnstormers of games so if you're backing the over – I hope you get one of those 9 goal thrillers.
Penguins vs Ducks:
Just one of those games that is an easy skip for me. At 2.30 odds, the Ducks are not a bad price at all. Especially with how random the Penguins can be at times. Penguins on a back-to-back too after playing the Caps. Pens without Guentzel although was nice to see Kapanen step up.
And actually DeSmith in net it looks like. Uh actually yeah – Ducks are worth a play here. Remember two weeks ago I said don't back the Pens against the Habs if DeSmith is in net? Habs put 6 past them. Similar deal here – if Casey turns into a rock so be it but he has struggled this season, and this is a winnable game for the Ducks who have played tough opposition lately and did well.
Funny how easy it can be to change my mind at times.
Ducks Win – Draw No Bet – If DeSmith is in net.
Canada: 2.35 Odds at Casumo
USA: Not available. Best odds for Double Chance are -130 at Bovada.
Everyone Else: 2.35 Odds at Casumo
(Odds correct as of 2021/12/11 11:23:43 AM EST but are subject to change.)
Islanders vs Devils:
Islanders showing a good bit of fire lately. Lots of people coming back for them. Looking to get that big win at home. I mean you gotta be rooting for them here.
Devils do seem to be sorting things out defensively at least.
Islanders should get the win here but it'd have to be in regulation. Even though players are back you never know who is 100% and not so I'll skip it – but this is one very close to a play purely on gut feeling.
Coyotes vs Flyers:
I don't think there's been a game this season I've been interested in analyzing less. Flyers on a B2B as well just ended their losing streak – the crappy Coyotes. No thanks.
Oilers vs Hurricanes:
Two excellent but unbackable teams at the moment, regardless of opponent. Canes at least look like they may be getting back on track. Oilers as favourite here is almost laughable. In saying that very hard to back against the Oilers – despite recent results – and Canes still missing a couple of defenceman.
Canes as slight underdogs is a decent enough bet but not one I can advise just based on their recent performances. Still quite a few iffy ones and they haven't won my confidence back.
Kraken vs Blue Jackets:
Kraken look to end their two game losing run. What a bizarre team. They go from scoring like 100 goals over the course of four games to 1 in 2. Jackets are one of those teams who get beat up by the better teams, but seem to do well enough against the others.
At 2.40+ odds, I actually think the Jackets is a good play here mathematically. It's just so tough to know what to expect from Seattle and it feels too much like rolling the dice for me.
Flames vs Bruins:
Man remember last month when the Flames were big underdogs against the Bruins? And we backed them and had a nice 4-0 win? That was nice and one of the easiest underdog plays I'll ever have.
Now it's all flipped. Bruins are doing well while Flames are stuttering. The odds are too tight especially when you have Cassidy not there. I lean Bruins but not enough value.
Kings vs Wild:
No joke I get so excited when I get down to just a couple of games less to go through. So freaking nice and I can't wait to go sit and relax and watch the rest of the EPL.
Anyway, this one – Kings are inconsistent as all hell. Wild are playing very well. We would have to take the Wild in regulation as look to continue their winning streak. It's not a bad bet but it's about 2.00 odds and that's iffy. King are coming in well. Wild are generally okay.
Basically, it feels like a coinflip and that's exactly what the odds are, so no bet.
Sharks vs Stars:
The Dallas Stars are really looking like one of those teams this season you can back at home, and fade on the road. Not super common in the NHL but the difference in performances is crazy.
Sharks are underdogs here even though they are above .500. Reimer is in net which is good news. I prefer him over Hill.
Stars will be out hard trying to end their bad road run but I'm fine with taking Sharks here.
This is one where it's a bit tricky if it goes to OT looking at the data – really is a pure coinflip it feels like. Stars may have a slight edge. So we'll go with Sharks win – Draw No Bet.
Canada: 2.00 Odds at Casumo
USA: Not available. Double chance odds are -170 at Bovada which I really, really would not recommend.
Everyone Else: 2.00 Odds at Casumo
(Odds correct as of 2021/12/11 11:23:43 AM EST but are subject to change.)
Follow @BetNHL
BetNHL.ca » Tonights Tips »