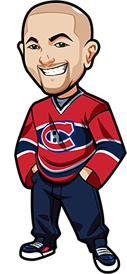 Written by Graeme on Sunday, December 11th, 2022
Follow @BetNHL
Hi guys,
No tips yesterday. Sens was one I felt had value and they were able to get the win over the Preds.
I'm glad there were a few question marks over Leafs in regulation, and that I avoided that. Sometimes on days with no tips it's so tempting to try and force/push one through, and I certainly looked at that one a lot but just wasn't liking it.
Canucks/Wild surprised me as while I didn't expect it to go over, Canucks getting shut out was quite the surprise. Didn't expect that.
Glad I didn't go with the over in the Penguins/Sabres game as man, that was some real bad luck for anyone who backed that. 7.90xG.
Sunday slate is 6 games let's see what we have:
Blues vs Avs:
Blues come in off that loss to the Jets. Avs are on a bit of a download spiral at the moment. Not a good time for the Stanley Cup champs. Blues offensive and defensive stats right now are erratic. I think Avs should be able to take this one but I can't back this team at all right now. Their goalscoring has to pick up at some point and this does seem to be a decent spot for them.
Blue Jackets vs Kings:
Kings on the back to back playing the Jackets, who beat the Flames 3-1. Kings generally better in the advanced metrics. xG both teams are similar and the Kings are outscoring the Jackets atm. They're taking their chances too but the Kings SCGA/60 is scary as all hell at 3.17.
I'm slightly tempted by Kings winning the race to 3 at 2.00 odds, but their goaltending just makes it too much of a risk. I'd also prefer slightly better xG and SCGF/60 on that one. No play.
Panthers vs Kraken:
Panthers decent favourites here. Coming in off yesterdays loss to the Lightning. Kraken stumbling hard at the moment. Both teams last 10 have a lot of goals scored with Panthers goalscoring been on point, while the Kraken are overperforming by a fair bit.
We are of course seeing that regress these last 4 games they have played. Including to the Panthers where they lost 5-1.
The over is tempting except for that regression happening with the Kraken offense. Which would put me more towards Panthers to win the race to 3 except their goaltending is atrocious, and the Kraken have a higher SCGF/60. Just not seeing anything worth betting with any confidence here. Add in a B2B and the recent game and it's sadly a skip.
Coyotes vs Flyers:
Coyotes pulled off the upset with the big win over Boston. The Flyers come in after a good performance against the Knights. Bookies have this close to a coinflip.
I would love to take the Flyers here, but just not enough checkboxes are being checked at these odds to make them a pick. They're struggling to score and even generate offense. Coyotes are better at taking their chances.
Actually – the more I look at it, the more I lean Coyotes. Let's talk this out. So right now a big concern for both teams is goals conceded. Coyotes are actually conceding less than expected. Goaltending helping them out. They're going up against a side with a low xG and goals scored is just a tad lower.
Flyers also have a poor SCGF/60 of 1.49. Worst in the league over the last 10.
Coyotes offense is overperforming. Their chance generation is brutal. But they're able to convert better on the chances. Their goaltending and defense is generally poor.
The advanced metrics for the Coyotes are just so poor. CF/60 is dropping at an alarming rate as is FF/60. Worst team in the league at both. And it's not like the Flyers have bad CA/60 or FA/60 or anything.
Honestly makes that win over the Bruins even more impressive.
Yeah I can't back anything on this one. The under is tempting but the goaltending on both teams is just too poor. The Coyotes offensive metrics are horrendous.
Jets vs Capitals:
Jets come in on a nice run, and I'm still overjoyed at nailing that race to 3 goals perfectly on Friday as they beat the Blackhawks 3-1.
Capitals have also strung some wins together as they visit Winnipeg.
Fairly close on the avanced metrics. Winnipeg scoring a good bit more than expected. Wonder if race to 3 is viable again here. It's not overwhelmingly so. Caps doing good at not conceding and their defense has been pretty solid.
Looking closer into the Jets results on their last 10 – a lot of their goals are against weak defensive teams. Either teams with poor xGA, poor GA or both. Like – literally 3 of their last 4 games are against the worst teams in the NHL for GA/60.
So that makes me think the Jets may struggle to score here.
What about Washington? Last two big wins over the Flyers & Kraken which isn't too huge. They are just obscenely inconsistent.
This is another thin one in value, much like I felt the Sens were. I wish I was getting slightly better odds here, but I'm going with Capitals incl OT/SO.
Two quick things to note about this:
1: I had no tips yesterday, I'm working my way down the tips and with one game left may not have any today. While I don't think it has, it's possible that has influenced me into making this tip. So bear that in mind. I'd prefer 2.30 I think for this one to feel great about it.
2: Jets have very good OT stats this season, while the Caps do it. So you may wish to take the extra risk of Caps in regulation. If it goes to OT, just based on the data, Jets have a slight edge. Probably makes it a 0EV play. If we were betting Caps at 2.00, I would take the in regulation instead as then it would be -EV if it went to OT at 2.00.
Ontario: 2.14 Odds at Sports Interaction (SIA) - Non-Ontario bet $10 get $200
Canada: 2.15.Odds at Bovada
USA: +115 Odds at Bovada
Everyone Else: 2.15 Odds at Intertops.
(Odds correct as of 2022/12/11 7:11:17 AM EST but are subject to change.)
Knights vs Bruins:
Knights struggled to beat the Flyers which wasn't a surprise. Bruins just got beat by the Coyotes. These two just played with Knights winning in a shootout.
I'm going with Bruins in Regulation if Ullmark in net here. Regardless of the two things I just wrote – Bruins are just overwhelmingly a better team across the board and it's just the right mathematical play to make. It's one of those plays I like to make as it just checks every single box, and if variance rears its ugly head then so be it. There is great value on this one.
Ontario: 2.35 Odds at Bet365 (Americans: We recommend http://www.bovada.lv
Canada: 2.35 Odds at Bet365 (Americans: We recommend http://www.bovada.lv
USA: +110 Odds at Bovada
Everyone Else: 2.35 Odds at Bet365 (Americans: We recommend http://www.bovada.lv
(Odds correct as of 2022/12/11 7:11:17 AM EST but are subject to change.)
Follow @BetNHL
BetNHL.ca » Tonights Tips »