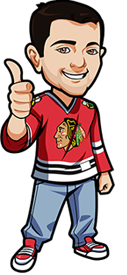 Written by Scott on Monday, December 12th, 2022
Follow @BetNHL
Hello. We had 2 tips yesterday and went 2-0 for a great night.
We had the Bruins to win in regulation as long as the Bruins started Ullmark which he did and the Bruins won 3-1.
We also had the Caps to beat the Jets and they did 5-2 thanks to a 4 goal 2nd period from the Caps.
The Avalanche beat the Blues 3-2 in OT, the Jackets beat the Kings 6-5 in OT and the Coyotes beat the Flyers 5-4 in OT. You know it was a good night of hockey when half of the games needed extra time to finish.
Another 6 games for us tonight.
Devils vs Rangers
The Devils continue to be one of the best teams in the league. They have gone 7-2-1 over their last 10 and are on the road for this one where they have gone an impressive 11-1 away from New Jersey.
The Rangers have won their last 3 in a row and are at home where they are just barely under .500 for the season going 5-6-4.
They played once this season in New York with the Devils winning 5-3. Both teams are in the top 10 in both goals against and shots allowed per game.
With the Devils road play I have to back them here.
Devils incl OT/SO
Ontario: 1.88 Odds at Sports Interaction (SIA) - Non-Ontario bet $10 get $200
Rest of Canada: 1.93 Odds at BetOnline.
USA: -107 Odds at BetOnline.
Everyone Else: 1.93 Odds at BetOnline.
(Odds correct as of 2022/12/12 8:48:44 AM EST but are subject to change.)
Flames vs Canadiens
These teams have similar records which before the season started would have been a crazy statement.
The Flames are 13-11-4 and the Habs are 13-12-2. The Flames have gone 4-4-2 over their last 10 and the Habs 5-4-1.
With the way both teams are playing it's tough to call a winner. In my opinion the Flames are a better team then their record would indicate and it's only a matter of time until they get their shit together. But the season is moving along and they will need to fix their issues sooner rather than later.
I would have to take the Flames in regulation here so I'm skipping.
Stars vs Penguins
The Stars have won their last 2 and the Pens have won their last 5. At home the Pens have gone 8-3-2 and the Stars have gone 7-4-2 on the road.
The Stars are ranked 3rd in GPG with 3.78 and the Pens are ranked 7th with 3.56. The Stars last 2 wins were both in OT with a 4-3 win against the Sens and a 3-2 win against the Wings.
The records for both teams are similar which makes this tough to have a bet for it.
Ducks vs Senators
The Sens have an 11-14-2 record and have gone 6-8-0 on home ice. The Ducks are 7-18-3 overall and 2-11-3 in road games but have lost their last 7 road games in a row.
They played once already back in November and it was the Sens winning 5-1.
The Sens are ranked 17th in GPG, 6th in shots on goal and 7th in power play percentage. The Ducks are ranked poorly in all categories, 30th in goals per game, 32nd goals allowed and 32nd in shots allowed.
With how bad the Ducks have been this season, and even worse when on the road, I like the Sens to win here.
Sens in regulation
Ontario: 1.76 Odds at Bet365 (Americans: We recommend http://www.bovada.lv
Rest of Canada: 1.76 Odds at Bet365 (Americans: We recommend http://www.bovada.lv
USA: -145 Odds at Bovada
Everyone Else: 1.76 Odds at Bet365 (Americans: We recommend http://www.bovada.lv
(Odds correct as of 2022/12/12 8:48:44 AM EST but are subject to change.)
Predators vs Blues
This is a tough game to predict. Both teams have been bad this season with the Preds 12-11-2 and the Blues have gone 12-15-1.
On the road the Preds have gone 5-7 which is basically the same record the Blues have at home of 5-7-1.
Both teams are on 2 game losing streaks so just another reason why I'm skipping this game.
Oilers vs Wild
The Oilers have gone 16-12 this season and 7-5 on the road. The Wild are 14-11-2 and are at home where they have gone 7-6-1.
The Wild have won their last 3 home games and will look to continue that here. But it's the Oilers and they can never be taken lightly anytime they play. Having the top two point leaders in the league means they have a shot in most every game.
Both teams are scoring more than 3 goals a game and also allowing more than 3 a game. The Oilers won their last 2 games with wins over the Wild and Coyotes and the Wild won their last game 3-0 against the Canucks. It's an easy pass for me.
Follow @BetNHL
BetNHL.ca » Tonights Tips »