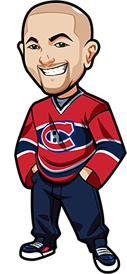 Written by Graeme on Friday, December 13th, 2019
Follow @BetNHL
An 0-1 night last night.
We had Flames/Leafs to go over 6.5 goals but it only hit 6. Can't believe that one didn't hit 7 after that insane start to the third period where the Flames scored three goals in under three minutes to go up 4-2.
Massive win for the Flames with Rittich pulling off 32 saves, and Geoff Ward has now driven them to 7-0-0. Amazing what a coaching change can do to a team and it shows how big mentality can be in the NHL.
Great game between the Oilers and the Wild last night that was very close and fun to watch. Surprised the Canes came out goalless against the Canucks. I had a feeling the Red Wings were going to make a game of it last night – I was pushing for the over in that one. However I didn't expect them to outright win – that was a big one for them and will be interesting if they can build on that or not.
Today is Friday, December 13th and we've got two games on the board. The Stars host the Knights and the Avs host the Devils. Stars are decent favourites and the Avs are heavy favourites.
You ever look at a game and immediately think "there's a slump buster"? That's how I feel about the Devils tonight. There's nothing I can do to back it up. Especially with everyone getting healthy on the Avs. Only thing I can really say is "it's hockey". Just one of those ridiculous situations.
Let's do a little poll on that one:
[poll id="57″]
Stars vs Knights Betting Tips:
I was hesitant to take the Stars here due to the odd circumstances surrounding the coaching change. However they came out and performed well against New Jersey. From studying the Dallas media it seems whatever the situation is there, this team is going to stick together.
Bowness said he isn't going to really ring in any changes which is a good thing – basically tell them you're big boys you know what to do.
Have to wonder if the Montgomery situation will make them feel stronger as a unit and maybe even want to do him proud? They responded well after that Jets loss and fought hard.
Subban in net for the Knights I believe which is always good news. Knights are incredibly inconsistent right now. That can be both a good thing and a bad thing as you never know what Knights team will show up.
I do feel Knights perform quite well on the road. They're one of those teams that if you look at the advanced metrics should be performing a lot better offensively. They have the ability to finish just don't get enough shots in there. One of those things where a couple of tweaks should be all it takes to get them rolling. However they haven't been able to do that successfully and consistently right now, and this should be a good spot for the Stars.
Knights on the 2nd leg of a B2B isn't really a factor as they've actually performed well in those spots. It's one of those games where "Stars in Regulation" immediately jumps out and there's just not enough data or reasoning to contradict that beyond the coaching situation.
0.5u on Stars in Regulation
Canada: 2.02 Odds at 888 Sports.
USA: -105 Odds at Bovada.
Everyone Else: 2.02 Odds at 888 Sports.
(Odds correct as of 2019/12/13 10:45:29 AM EST but are subject to change.)
Non-NHL Betting Tips:
Written by Graeme
(All below systems are based mainly on mathematics and statistics with very little human input and are deemed experimental. Use at your own risk.)
AHL Betting Tips (13-8, +4.24u): 0.5u Texas Stars in reg 2.15. 0.5u Rochester Americans incl OT/SO 1.86.
Where To Bet the Non-NHL Leagues:
Canadians: Bodog and 888 Sports.
Americans: Bovada.
Everyone Else: 888 Sports.
Follow @BetNHL
BetNHL.ca » Tonights Tips »