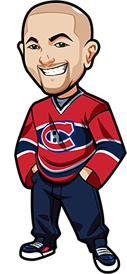 Written by Graeme on Monday, December 13th, 2021
Follow @BetNHL
It was an 0-1 night last night as we backed two hefty road underdogs. It was close, but no cigar.
We had Ducks Draw No Bet for a push. Ducks did win it in OT. It's tough to take when making that bet and they win it in OT. Technically you could say OT/SO is a coinflip or close to it, so taking the underdog in that spot is actually an +EV bet.
I just haven't been super impressed with the Ducks performances when it goes past the third period, so decided to go with that option instead. That's something I am going to look into though – as it may make sense to play a team at those odds. Just have to sit down and calculate the whole risk/reward aspect of it.
We had Panthers Draw No Bet and that one was a loss. It was a fairly close game. Avs played a lot better defensively than usual.
Thankfully I spotted the warning signs on the Rangers, and stayed away from them as they lost 1-0. If the Preds hadn't let us down twice in the past week or so I'd have liked to have backed them.
Canucks with a big win over the Hurricanes which was impressive.
Just the one game tonight – wheee, a day off for me. You know I write like over 1600 words on Saturday? Even yesterday was 700+ and Friday was 800. That doesn't count all the time spent going through analyzing every game. Nice to have a little bonus day like this.
Quick note that we've added a new sportsbook ro our approved list. This is BetOnline. who I have started betting at over the last year and have been happy enough with them to add when it comes to odds comparisons.
They're primarily USA/Canada – they do accept people from other countries but they have a laundry list of disallowed countries so YMMV.
They're currently offering a Double your first deposit special, and a 10% cash bonus up to $200, so check them out.
Blackhawks vs Flames:
The Blackhawks come in with an insanely inconsistent record. Pretty much win loss, win loss, win loss with the wins mostly being in OT.
The Flames are struggling hard. They just had a tough road trip and are stuttering at home now. Sportsbooks still have them as favourites here at 1.68 odds. They did beat the Blackhawks 5-2 on November 23rd.
Only one regulation win in 6 attempts in December.
Flames talking a lot about how they believe in themselves etc. That can be good but can also be bad – you have to wonder if they just expect things to magically change.
With the way both teams go to OT a fair amount lately, and the performances – I don't hate a Blackhawks Draw No Bet on here. Just don't have the confidence to actually back it – or even bet it. If the odds were better maybe – but the Hawks are such a meh team, and the Flames we know are talented.
A pretty easy no bet night for me.
Follow @BetNHL
BetNHL.ca » Tonights Tips »