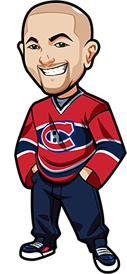 Written by Graeme on Thursday, December 15th, 2016
Follow @BetNHL
The Flyers amazingly extended their winning streak to 10 last night. The Avalanche gave them a tough game but they kept strong. I think that's what is most impressive about this run – they have had some TOUGH games but hang on there and have a crazy confidence.
We won with the Over 5 goals in the Tampa Bay Lightning vs Calgary Flames game. Tampa came out strong and looking to put their poor performances behind them. They looked a bit slack in the 3rd period but their offense delivered.
We lost with the Bruins vs the Penguins. We expected the Bruins to battle hard with the Pens and they did, but Pittsburgh took it in OT. The usually solid Bruins penalty kill was disappointing last night as they allowed the Pens to score twice on power plays.
We don't have any tips today. We went over everything this morning and there was a few possibilities but we wanted to wait to sit on them and wait till later. There are a lot of strong possibilities but we couldn't whittle it down and have decided to have no tips today, rather than take some we aren't comfortable with.
Here's what we were looking at:
– Blackhawks to beat the Islanders. Islanders are a mess again and Darling is hot and the Hawks look like they're getting going on a winning run.
– Ducks/Bruins Over 5 or Ducks to win. The latter assuming Rask isn't in net although even if he is, he's performing average this last little while.
– Coyotes to beat the Leafs. Really though the only factor that had us considering this was Mike Smith and his overall performances against Toronto, plus the Leafs run so hot and cold that the price made the Coyotes appealing.
– Jets to beat Panthers. In the key stats the Panthers are slightly better but we do like the Jets at home and after Laines mistake on Sunday we'd like to see the whole team bonding over that and helping him get through it. On the flip side it could be eating away at him and after a 4 day break decided to skip.
Good luck tonight.
Mathematical/Experimental Betting Systems:
(All below systems are based mainly on mathematics and statistics with very little human input and are deemed experimental. Previous Records: 1st Period System 30-36 (+15.99u), OHL 28-15 (+17.15u)
OHL Betting Tips(12-11, +0.27u): Owen Sound Attack to win at 1.73 odds.
Bet the OHL at:
Canadians: Bodog and 888 Sports.
Americans: Bovada.
Everyone Else: 888 Sports.
Follow @BetNHL
BetNHL.ca » Tonights Tips »