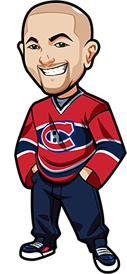 Written by Graeme on Sunday, December 18th, 2022
Follow @BetNHL
A 3-1 night last night.
Lightning won the race to 3 goals as expected. I would have been quite upset if that didn't happen as everything pointed at it. Buffalo also got over 3.5 goals which was a sweat for a bit but came in.
Jets got the win yesterday and I was happy to see it was dominant because they were overwhelmingly the better side yesterday by the data.
Kings/Sharks couldn't get the goals. I did say goaltending might be an issue and that was the case. The teams put up over 7 goals in xG so variance was the issue there so they created the chances I expect. With goaltending being a question mark that I highlighted, I probably should have skipped that one.
Let's look at Sundays games:
Wild vs Senators:
It's quite fascinating how few goals the Sens score 5 vs 5 compared to anything else. And we actually saw that yesterday with both power play goals and short handed goals.
Not seeing anything on this one. Wild maybe a tad too heavily favoured here but not enough for me to back the Sens on value. Both teams can score but GA/60 isn't the numbers you want if backing an over 6 and neither is the xGA.
Hurricanes vs Penguins:
One thing I enjoy about using advanced metrics for my basis for picks is for games like this. When I look at it, I can openly say "Man, I have no clue" but that's okay – because I can look at the metrics and data instead, and use that as a baseline to see whether it's worth exploring for a potential bet.
Pens scoring slightly more and conceding slightly less. Pens Canes underperforming offensively, Pens overperforming with their goalie. Pens impressive SCGF/60 of 2.98 to Canes 2.56.
I'd say the sportsbooks have this one absolutely dead on odds wise. Canes about 1.83 yep that seem's about right I would just give them that slight little edge too.
Blackhawks vs Rangers:
Blackhawks come in playing very poorly. These two played on December 2nd and Chicago won 5-2. I mean right there – how can you even consider backing the Rangers? They just lost to them at home. And Rangers were coming in off a win there too. It's silly.
Anyway if you're looking for a bet here – it's probably Rangers winning the race to 3. It's ot a play I can advise as I just don't see the value in it – but it's the likely thing to happen. Odds are 1.71 for it which are just too low for me. Their xGF/60 is 2.8 and SCGF/60 2.55 so those are too low for me to back this one, even though the Blackhawks defensive metrics do balance that out. I'd need better odds.
Kraken vs Jets:
Jets off that big win last night. Rittich probably in net which is a drop down sadly. He does have four wins of course, one of which were against Seattle.
Jets are on a back to back but the numbers do indicate they will be able to score goals here. Looking at previous back to backs yeah I gotta think they can – even if one of those were the Kraken and they only got the 2 in regulation.
All the key metrics are good for the Jets to get the goals here. Race to 3 is a tad iffy though as Kraken are good goalscorers. And actually if Rittich is in net, it's possible this one goes over. In saying that, Krakens offense is a tad cold and some of the numbers are skewed due to that crazy week in November.
So I'm a bit conflicted on this one. The over is a possibility, but we're backing the Kraken offense to perform there, and Rittich to be a factor in that. While if we want something like Jets winning the race to 3 goals (over 2.5 goals odds are trash), we're kind of backing the Kraken won't be as hot offensively.
I'm going to go with Jets win the race to 3 goals. The Kraken offense is just inconsistent enough looking back through the entire season data, that there's more chance they won't show up than do. This really is a close one though, and so I'm basically gambling on what I foresee to be two even sided situations, but going with the one with the higher odds.
Ontario: 2.35 Odds at Bet365 (Americans: We recommend http://www.bovada.lv
Canada: 2.40 Odds at Bovada
USA: +140 Odds at Bovada
Everyone Else: 2.35 Odds at Bet365 (Americans: We recommend http://www.bovada.lv
(Odds correct as of 2022/12/18 7:33:24 AM EST but are subject to change.)
Sharks vs Flames:
I'm pretty happy to avoid anything Flames related right now. I did say that I didn't understand why they were favoured like they were against the Blues. On the road in San Jose, they are fairly heavily favoured still and I just don't get it. I mean yeah I'd price them as slight favourites but 1.58? Cmon.
And actually Sharks outperforming them in SCGF/60 as well. The one problem with the Sharks is defense and goaltending. That is really costing them at the moment. Kahkonen is confirmed who is a bit of a liability.
Yeah nothing for me on this one.
Follow @BetNHL
BetNHL.ca » Tonights Tips »