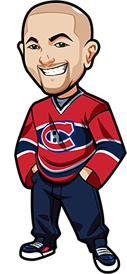 Written by Graeme on Thursday, December 1st, 2016
Follow @BetNHL
Well we were 26.6 seconds from a huge night last night.
After going down 3-0, the Penguins had a big 3rd period tying it up 3-3. 26.6 seconds were left on the clock with it going to overtime and giving us a big 4.00 win. And then Anders Lee scored.
That was gutting as it would have been a great end to the month and put us in the black for the season. Absolutely crushing goal. Thankfully it was a 1-1 night for a tiny profit with the Flames picking up an easy win over the Leafs.
But man – that one really stung.
Something funny about that game I forgot to mention yesterday – I was reading the Penguins media before the game and they were all talking about how nice it was to have the 3 day break, and how they're all rested and invigorated etc because of it. On the surface you might think "Damn I gotta take the fresh Penguins" due to that – then you look at their last 3 day break and yeah they came out of it and got thumped 7-1 by the Capitals. Sometimes rest isn't a good thing.
Alright onto tonight and we've got a busy night in the NHL with 12 games on the card. Some good games for tonight. Islanders will hope their momentum continues as they visit Washington, while the crashing Oilers hope to turn things around in Winnipeg. Rangers take on Buffalo and the Stars will hope to stop their losing run in Pittsburgh.
Let's get to it:
Rangers vs Sabres Betting Tips:
This is one of those nice bets where you don't have to put too much thought into it. Last couple of games between the teams have been high scoring. Eichel is back for the Sabres and they look to be playing an all offensive game taking on the Rangers, who are the highest scoring team in the league.
The line for this one slightly concerns me as it's at 5 – I thought it would be at 5.5. Always worries me that the bookies know something I don't. However I'm almost tempted to move the line to 5.5 for better odds. I'll stick with just the Over 5 though as the Rangers have had a few tight games lately and who knows if that Sabres goalscoring against the Sens was a fluke.
Over 5 Goals incl OT/SO
Canada: 1.80 Odds at Sports Interaction + $20 Free Bet.
USA: -130 Odds at Bovada.
Everyone Else: 1.76 Odds at Bet365 (Americans: We recommend http://www.bovada.lv.
Red Wings vs Panthers Betting Tips:
I'm not fully convinced on this one – the Wings are hard to back this season – but I like the odds enough to justify this one. There's just too many ticks in the "pro" column to ignore.
The Panthers are changing things around. It'll take a bit to get used to that. Mrazek is coming in hot after that Stars result. I've liked the Red Wings at home this season. They've lost a fair amount of course but it's mostly tight games. I think it's a good time for the Wings to take advantage of a changing Panthers team.
Red Wings to win incl OT/SO
Canada: 2.01 Odds at BetOnline..
USA: -105 Odds at Bovada.
Everyone Else: 2.01 Odds at BetOnline..
Mathematical/Experimental Betting Systems:
(All below systems are based mainly on mathematics and statistics with very little human input and are deemed experimental. Previous Records: 1st Period System 30-36 (+15.99u), OHL 28-15 (+17.15u)
1st Period System (5-14, -3.75u): Chicago Blackhawks 2.70, Arizona Coyotes 3.35, Detroit Red Wings 3.10, Columbus Blue Jackets 2.75, Philadelphia Flyers 3.00.
OHL Betting Tips(6-8, -2.1u): Peterborough Petes in regulation at 1.85.
1st Period Betting:
Canadians: Sports Interaction, Bet365 (Americans: We recommend http://www.bovada.lv & 888 Sports.
Americans: BetOnline. or Bovada.
Everyone Else: Bet365 (Americans: We recommend http://www.bovada.lv or 888 Sports.
OHL, WHL & AHL Betting:
Canadians: Bodog and 888 Sports.
Americans: Bovada.
Everyone Else: 888 Sports.
Follow @BetNHL
BetNHL.ca » Tonights Tips »