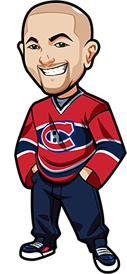 Written by Graeme on Sunday, December 1st, 2019
Follow @BetNHL
Well a disappointing 0-2 last night although it was really quite a weird day anyway.
I had some bad vibes going into yesterday just with the back to back situation, and there was quite a few surprising results. Personally I was celebrating at the fact that the Lightning/Canes game didn't go over ha – as I was close to picking that one instead.
Just seemed like one of those days where for the most part, minimal effort was needed to get the wins.
58% of you thought Leafs -1.5 would hit but that wasn't the case as Leafs couldn't even wrap it up in regulation. Glad I didn't take that. The only serious lean I had that I didn't take was the Flyers to win. While they did, it was in the crapshoot of OT so I don't feel too bad at not advising it.
I think the Minnesota Wild are probably a good play today. Very tempting. Will be an interesting one seeing if the Stars bounce back or not. I do rate the Stars higher but just remember how awful they were at the beginning of the season. Could see that again – it's amazing what a couple of losses in a row can do.
Oilers in my opinion are one of those teams where you can bet the good side of a coinflip either for or against them and come out ahead. They're slight underdogs today but not enough value for me to back.
Just the one play:
Bruins vs Canadiens Betting Tips:
Ah the big revenge game for the Habs, after the Bruins thumped them 8-1 a few days ago.
Look – if the Habs are able to muster up the passion and fight and come to Boston and give the Bruins their first home loss in regulation, or a rare loss at the Garden then so be it. Habs aren't the worst team on the road.
However they're on a back to back, and really haven't shown enough since that game. Lost at home to the Devils then couldn't beat Philly. They're now on a 7 game losing streak.
Boston are going to be up for this game. It's Montreal. Price is in net but not like that is a big factor. He's seriously struggling and again if he recaptures the magic then so be it.
Marchand and Backes are in. Rask is in net who doesn't have the best time against the Habs. Boston are hit a bit by the flu, but I've never taken that seriously honestly. Over the years here doing tips I've seen so many teams stricken with the flu and then they absolutely kill regardless.
Gotta go with the Bruins here. One of those if they lose then so be it bets. It's almost tempting to do 2u but after yesterdays bizarro day, I'll go smaller.
1u on Bruins in Regulation
Canada: 1.76 Odds at 888 Sports.
USA: -130 Odds at BetOnline..
Everyone Else: 1.76 Odds at 888 Sports.
(Odds correct as of 2019/12/01 12:09:49 PM EST but are subject to change.)
Follow @BetNHL
BetNHL.ca » Tonights Tips »