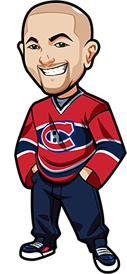 Written by Graeme on Wednesday, December 20th, 2017
Follow @BetNHL
The Vegas Knights win again and help us to another winning night!
What a team they are. Top of the West and 2nd in the overall standings and they just beat the Tampa Bay Lightning in regulation. Unreal.
Pretty sure I'm going to be blindly tipping the Capitals against them on Saturday though. That game is more about Washington for me – with everything the Knights are doing especially at home, it just seems like a perfect moment for the Capitals to flex their muscles and show what they're capable of. Similar to when I tipped them over the Bruins last week.
It's a quiet day today with only a few games so I wanted to talk about some changes to the tips over the next few weeks.
I'm off to Scotland over Christmas for a couple of weeks so that along with the time difference will interrupt discussion between me and Scott. We'll basically just have to chat whenever the hell we can.
We alternate days of course however there may be some issues where the odds aren't out yet on one of my days and I'll be out of the house early. So I may just have to guess the odds and do a "If the odds are above 1.70, bet _____" deal. Similar to any potential injuries or goalie lineups etc.
So anyway you shouldn't see too much from your end but just wanted to give a quick heads up about that and a note that our discussions won't be as detailed.
We'll also be starting unit betting when I'm back in January. Looking forward to that as it should allow us to maximize profits and get a bigger variety of bets going.
Blues vs Flames Betting Tips:
It really sounds like Yeo has did his scouting of the Flames for this one. Calgary are a tricky team and they've got some good things working out for them at the moment, but their home form has been extremely poor.
We were debating whether to go with the Blues win at their nice underdog price or the over 5.5 but have decided on Over 5.5.
Looking at past games the Blues have went out with the same mentality as they seem to be doing tonight and that's resulted in a lot of high scoring games.
It's a bit risky based on both teams recent performances of course but we think this one can go over.
Canada: 2.05 Odds at BetOnline..
USA: -105 Odds at Bovada.
Everyone Else: 2.05 Odds at BetOnline..
(Odds correct as of 2017/12/20 11:05:04 AM EST but are subject to change.)
Other Game Thoughts:
Leafs vs Jackets: The one big question is if the Leafs are a team that can carry momentum and really the answer is no. Not a definite "no" but yesterday was a special game. When you look at Leafs thumping the Habs 6-0 in Montreal then 2 days later losing 4-1 at home to the Coyotes you just can't back them on momentum. They've only won 2 games in a row in regulation 4 times this season, and the 2nd leg of a good few of those were very tighht.
The Jackets are really struggling at the moment and just aren't a team we can back given the odds. We'd have to take them in regulation and we just don't trust them there so no bet.
Flyers vs Red Wings: I like the Flyers to get back to their winning ways here but the Wings have been pretty solid with points in their last 4 games. It'd have to be in regulation and I'm a bit worried about the Flyers losing confidence after their winning streak ended. We see streaky teams all the time and if they lose here we could see another prolonged losing streak for them. That may make them desperate which isn't a good thing when looking to back a team at such high odds.
Follow @BetNHL
BetNHL.ca » Tonights Tips »