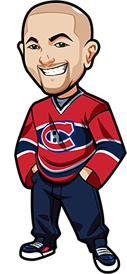 Written by Graeme on Saturday, December 21st, 2019
Follow @BetNHL
Welcome to the NHL Tips for December 21st, 2019.
It was a fun night of hockey last night with every game going over. How about that Panthers vs Stars game? Yikes. Glad the Stars were able to get it back to a respectable looking scoreline at least.
It was nice to see the Leafs vs Rangers game go over with ease. That was the one I was strongly leaning towards. Actually all 4 of the results I was leaning towards came in, so after the last week that was nice to see.
Hopefully that continues into tonight.
Should be a good night of hockey as we edge closer into the Christmas break. There will not be any NHL games – and thus no tips – on the 24th, 25th and 26th but I'll be back bright and early on Friday, December 27th where we have a busy card of 11 games.
Despite feeling good after yesterdays games, I will restrain myself to just the lone tip for tonight. Honestly with the Christmas break coming up we'll probably stick with that for the remainder of the year. See how it goes though.
Sabres look like they might be without Eichel again. If that's the case Kings are a solid little value play. They've played some solid hockey lately and will want to keep that point streak going. Johan Larsson out too, and Evan Rodrigues is day to day.
Leafs vs Red Wings is an interesting one and one I almost tipped. There's an interesting game script going into this one – the Leafs are trying to get backup goalie Michael Hutchinson his first win of the season. They're making a big deal of it and at home against the Detroit Red Wings? Perfect confidence booster.
Thing is it's not like the Leafs can do that with a stout defensive performance is it? They leak goals like crazy. The only games where they conceded just 1 goal this month required Freddie to pull off over 35 saves.
So they're going to have to rely on their offense for the win which I'm sure they have no problem with. It's a B2B for the Leafs and on the 2nd leg of B2Bs lately they've phoned it in but with the Hutchinson situation I'm hoping they don't do that. I think they're going to be motivated to get him that win.
However that is one negative, and the other negative is the Wings offense on the road. They're very very poor there. That's 2 black marks against, and just enough for me to stay away from it.
Lightning vs Capitals Betting Tips:
When you see games like this and the "Battle of Ontario" on the card, your immediate thought is the over. It's a case of looking at it thoroughly and seeing if you can justify it or not.
I think we can.
It's the final game of the season between these two. The regular season at least. Both teams will be aware of it and will have a bit more drive going into it. A lot of games between these two lately have been high scoring, and if you look at the final game of the regular season between them you see a lot more fight in them both too.
Washington are playing some damn good hockey lately and were on fire against the Devils. Being shut out against the Jackets will be fresh in their minds still and they'll want the sweep of Tampa. Tampa will want the last laugh and should be up for this game.
Hard not to see the 1st and 3rd top offenses going at it here.
0.5u on Over 6.5 Goals incl OT/SO
Canada: 1.95 Odds at 888 Sports.
USA: -120 Odds at Bovada.
Everyone Else: 1.95 Odds at 888 Sports.
(Odds correct as of 2019/12/21 6:52:59 AM EST but are subject to change.)
[poll id="60″]
Non-NHL Betting Tips:
Written by Graeme
(All below systems are based mainly on mathematics and statistics with very little human input and are deemed experimental. Use at your own risk.)
AHL Betting Tips (14-12, +3.14u): 1u Charlotte Checkers in reg 2.05. 0.5u Belleville in reg 2.25. 0.5u Hershey in reg 2.20. 0.5u Rockford in reg 2.05.
Where To Bet the Non-NHL Leagues:
Canadians: Bodog and 888 Sports.
Americans: Bovada.
Everyone Else: 888 Sports.
Follow @BetNHL
BetNHL.ca » Tonights Tips »