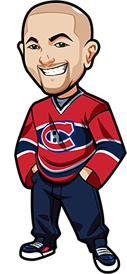 Written by Graeme on Thursday, December 22nd, 2016
Follow @BetNHL
The Oilers put their Coyotes hoodoo to bed last night with a 3-2 win in a tight game. Getting that early goal was good for them as it allowed them to relax more and take off the pressure.
In the other game of the night, the Capitals and Flyers went to a shootout where the Flyers ended their losing streak at 2 with a win. Steve Mason stepped up big for the Flyers in that one and had a huge save just at the end of overtime to keep the Capitals at bay.
With two nights left before the brief Christmas break, we've got very busy schedules on the NHL.
With only two games yesterday I spent a lot of time analyzing our plays for the season so far – seeing where we've made the wrong picks, or games where we should have picked but haven't etc. I'm feeling quite happy looking at things and where we'd went wrong. A lot of high value plays that didn't pan out that we're going to gravitate away from. A few picks that were just plain wrong too – where one of us really liked something and looking back at it, we'd use the stats to justify the bet. That's a mistake I think we can put down to over confidence after the past few years and one we're looking to rectify.
There's also the possibility that we'll post picks a bit later in the day sometimes. We try and have them up by 11am-12pm EST at the latest to accomodate the European followers we have(and that's a LOT of people) but there may be days, such as today, where there's a full slate of games and a lot of potential picks and along with discussing it we like to mull it over.
Feeling good after looking at all that, and that we're going to have a good 2017.
Funilly enough we've not had a winning December YET with the tips since we started this. I think we're both eating too many candy canes this time of year or something.
Let's get to it tonight and try and go into Christmas on a winning run.
Wild vs Canadiens Betting Tips:
With Price, and likely Dubnyuk in net, we may be crazy with this one but we're going to be going with Over 5 Goals.
Both teams goalies and defenses are tremendous this season. However both their offenses are coming in on a roll too. Only 1 shutout recorded by either team in December which was the Wild against the Avs a couple of nights ago.
The tight goaltending generally allows for a more open offensive game and we like this one to at least hit the 5 line if not go over.
Over 5 Goals incl OT/SO
Canada: 2.00 Odds at Bet365.
USA: Bet at Bovada.
Everyone Else: 2.00 Odds at Bet365.
Ducks vs Senators Betting Tips:
This was one we spent a lot of time over but we're going to go with the inconsistent Anaheim Ducks to win. It can be hard to count on the Ducks and we know they're going up against the Sens at home however we like the way these teams match up. The Ducks have the best offense of the two and their defenses are similar. Ducks showed how they matched up well against them last time out and the Habs gave the Ducks a nice reality check in their last game. We like the Ducks to get a repeat victory over the Sens.
Ducks to win incl OT/SO
Canada: 1.95 Odds at Bet365.
USA: Bet at Bovada.
Everyone Else: 1.95 Odds at Bet365.
(Note: This line has dropped to around 1.80 since this morning. I'm not confident it's playable at those odds).
Lightning vs Blues Betting Tips:
This was one we debated all day and finally decided on the Over 5. These two teams it can be hard to count on either this season as they've had a lot of sloppy games and poor play. However that all combined last time out for the Blues to win 5-4 in St. Louis and we're hoping for a repeat result here.
The Tampa offense looks to be rolling again and even when they're getting thumped their offense has the ability to score. The Blues are without Stastny which doesn't benefit us but Bishop is out for Tampa. Vasilevskiy is fairly solid but Tampa have been hesitant to play him a lot and he got absolutely hammered by the Canucks and Pens.
There are a few concerns with injuries overall but we still like this one to go Over 5 Goals incl OT/SO.
Canada: 1.74 Odds at Bet365.
USA: Bet at Bovada.
Everyone Else: 1.74 Odds at Bet365.
Follow @BetNHL
BetNHL.ca » Tonights Tips » December 22nd, 2016 NHL Betting Tips