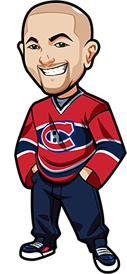 Written by Graeme on Sunday, December 22nd, 2019
Follow @BetNHL
Well unfortunately the game featuring two of the most offensively proficient teams in the NHL came up short yesterday, as the Capitals won 3-1 against the Lightning. We of course had the over in that one.
We almost had a thrilling ending too when Eller went to the penalty box and tampa got 5 on 3. I know I was on the edge of my seat for that. Some big saves from Holtby there.
I'm very glad I stayed away from that Leafs/Wings over. Happy that my analysis seemed spot on there at least. I would have been raging though if I had tipped that one and it never went over with Pickard going in net. Wings on the road are just woeful.
80% of you voted in the poll that the Caps would win so props to you for that. Hope many of you bet on them too and reaped the benefits.
Crushed in the AHL yesterday as I completely forgot it was World Juniors season and this is generally the time I take off from non-NHL tips. I'll hold off on any more of those until a few days after the Juniors are over and I see how things are going.
So it's Sunday, December 22nd. 2 more days before the break. 4 games. Have to wonder if that will see extra effort from the teams whose last game it is before the break. That is the Ducks, Red Wings, Stars and Sharks.
Ducks vs Rangers Betting Tips:
Sometimes when I don't see any tips after my first run through, I write out my thoughts about a game. As I write about it from a more casual standpoint, I start to lean towards a bet to make and end up convincing myself. That one would be the over 5.5 in the Ducks vs Rangers game.
It's hard to trust the Ducks offense right now. One of the worst in the NHL. However they put in a massive effort against the Islanders and with the Christmas break upcoming, I think that will keep them pushing. It helps that the Rangers are one of the worst defensive teams in the league.
I've admitted that I am wary of the Rangers and their offense however surely we see a big effort from them here. They've lost their last 4 at home in regulation that's brutal. I think they should be able to get some goals against the Ducks though. They're off to Philly tomorrow so I'd hope they put in a performance here.
Just one of those games where I feel there's enough at stake for both teams and that they will be motivated. These two played recently and it had 7 goals in it so hoping for more of that.
Dear hockey gods – we would also like to go into the Christmas break on a couple of wins. Make it happen. Give us a 10 goal thriller.
0.5u on Over 5.5 Goals
Canada: 1.91 Odds at BetOnline..
USA: -109 Odds at BetOnline..
Everyone Else: 1.91 Odds at BetOnline..
(Odds correct as of 2019/12/22 10:08:20 AM EST but are subject to change.)
[poll id="61″]
Follow @BetNHL
BetNHL.ca » Tonights Tips »