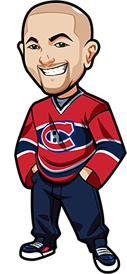 Written by Graeme on Friday, December 23rd, 2022
Follow @BetNHL
Well it's just about time for the Christmas break in the NHL.
Today is the last day before no more games until Tuesday.
It's interesting as you always get people throwing out a lot of theories about betting this time of year. "Oh this team will be upset they are on the road away from their families" or "no-one will want to play after the break so the teams will be jaded" etc.
Some of that may be true but I've spent time in the past looking at results this time of year and never seen any data trends that point towards that sort of thing. So the best thing is just to bet as per usual, and whatever happens, happens.
Let's get to the Christmas Eve Eve games:
Devils vs Bruins:
The Devils just ended a brutal losing streak with a road win against the Panthers. This one is coinflip odds near enough. Bruins have been excellent.
Looking at the metrics Corsi & Fenwick are pretty close. Obviously Bruins scoring more, Devils conceding more. Devils offense should be performing better while the Bruins are solid defensively.
I would pretty much agree with the sportsbooks here – it's close, with a slight edge to the Bruins.
Going away from the metrics, this does seem like the type of game the Devils will be up for. It's the last day before the break. They just got a big win. They're going against top tier opposition etc.
If anything, I could see this game going over (that Devils offense has to start scoring more) if the Devils are up for it. But the line is 6.5 and I mean you just never know what to expect when a team ends a losing run.
If I were to make a bet in this one based on everything I am seeing, probably slight value on Bruins.
Hurricanes vs Flyers:
Nothing I like here. Canes obvious favourites and would have to take them -1.5. Flyers it is hit and miss whether they lose by 2 and their offense is performing well the last couple games.
By the metrics yeah Canes cover the -1.5. Flyers offense is slightly overperforming. Canes though haven't covered that puck line enough for me to want to back them.
Capitals vs Jets:
Cans favourited here. Jets coming off loss to the Bruins on a B2B. Sportsbooks have this line correct. I'm slightly tempted by Caps in regulation to be honest. I'm just a bit concerned with their last couple of performances, and with Winnipeg scoring.
Hockeyviz has Washington as 56% favourites here. Caps aren't really too goalie dependent. Jets have Rittich in net who is definitely performing better his last few starts, and he did a fantastic job agains Ottawa as well. Their offense is pretty solid and they had a high xG in that one. However Caps actually did a great job defensively against Ottawa.
It's close actually. Some of these stats I feel really good about.
I'll be honest – I put this game on hold at this point to go through the rest of the games and see if I had any picks. Unfortunately I don't. So now I'm revisiting this one – and it's one of those things where I'm wondering if because I have no other players, if I'm convincing myself more on Caps in regulation.
I think mathematically, this play is a good one to make. There's just a difference in how I feel on bets at times. Like there's in regulation plays I make where I feel great and very confident about them, then there are ones like this where while I feel it is +EV, I'm just not fully convinced on it.
But with no other picks, let's go with it tonight.
Caps in Regulation
Ontario: 2.05 Odds at Bet365 (Americans: We recommend http://www.bovada.lv
Canada: 2.05 Odds at Bet365 (Americans: We recommend http://www.bovada.lv
USA: -105 Odds at BetOnline.
Everyone Else: 2.05 Odds at Bet365 (Americans: We recommend http://www.bovada.lv
(Odds correct as of 2022/12/23 10:13:54 AM EST but are subject to change.)
Islanders vs Panthers:
Bookies have the right line on this one.
Predators vs Avalanche:
I'm fine not betting anything on this one. That Avs offense at some point is going to start scoring more goals, and more consistently. They are creating the chances, and the Preds could be a team that they start doing that against.
Stars vs Canadiens:
I like the Stars here but would have to be the handicap or a goals related bet and they don't score enough goals to warrant that. With the Habs defenseive and goalie stats though you couldn't really back anythung under related. Stars should score 3 here.
Blackhawks vs Blue Jackets:
Two torrid teams. Jackets you gotta give a slight edge too I think but man I do not want to back that team on the road against anyone. By the numbers there is certainly value on them so if you're betting them, it's an +EV play I'd say.
Oilers vs Canucks:
This one should see goals especially from the Oilers. 4.15 GF/60 last 10 against a GA/60 of 4.27. SCGF/60 of 3.56 to SCGA/60 of 3.59, xGF/xGA similar.
It's a case of seeing if a betting opportunity is out there with the right odds. Oilers race to 3 is just 1.64 so that's not a play. It's also a tad risky with the way the Oilers concede at the moment. Canucks are such a weird team as sometimes they put up the goals, sometimes they don't. That's why you can't just back the over in this one.
In saying that – I think if you were looking to back the over, you'd do something like an alternate line and get it above coinflip odds. If you say it's 50/50 whether Canucks offense get going or not, then backing above 2.00 and over 7.5 or something is the smart play.
Ugh. And Oilers over 3.5 goals is just 1.62 so no value there either.
These ones always bother me the most because there is a play that I like, which is the Oilers scoring goals and I think they score 4 here at least – but I can't see the right betting opportunity. I just don't know what Canucks team will show up.
So yeah I am not spotting a bet here. You could maybe do a same game parlay like Oilers ML & Oilers over 3.5 goals comes to 1.83. That seems decent.
Coyotes vs Kings:
Odds seem about right. I flirted with Kings in regulation but they don't really have the incoming results to back that, and this Coyotes offense is performing quite well at the moment. A better SCGF/60 than the Kings, goals scored is about the same etc.
Knights vs Blues:
If the Blues could get their defense going, they would be a solid bet here. But the Knights offense is trending upwards.
I don't hate the over 6 here but there's not enough for me to back it.
Ducks vs Flames:
Flames should win but have to take them in regulation and no faith in that.
Follow @BetNHL
BetNHL.ca » Tonights Tips »