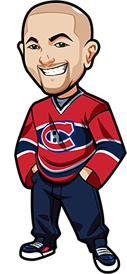 Written by Graeme on Friday, December 27th, 2019
Follow @BetNHL
Has the NHL really only been off for the holidays for three days? It feels like a month.
Our last day was a push as we had the Jackets/Islanders to go over 5 and they hit eactly 5. Looking back at my internal notes for that day however I'm quite happy with my thoughts on the games, so hopefully that's a sign that the bad run is behind us.
We'll most likely continue to stick with just one play a day for a couple of days at least however though until the confidence starts building more. There are certainly quite a few teams who I look at and think I can't count on them – much more than previous years.
Even though I'll stick with the one tip I'll be sure to air my thoughts on some games too.
5 days left of the month so let's try and end the month on a winning note. Couple of thoughts on some games today.
– Devils vs Leafs over is tempting simply because of where both teams ended up offensively prior to the break. Would like to think they come out like that for todays game. But that was a bit of an anomaly for the Devils and it feels a bit reactive. I do think that one will go over though.
– The Blackhawks are such a volatile team right now that I can't see any reason to bet on games involving them unless there's a play absolutely dripping in value. And today there isn't anything there really. Maaaaybe the over? But I just can't count on this Hawks offense showing up. I have a feeling it goes over but just feels like a total coin flip. Hawks are depleted as hell so Islanders SHOULD be a play but I haven't been able to figure out the Hawks at the moment so I'll wait and see how things change.
– Battle of Alberta is always a game to look at the over on. Oilers sound like they are happy with the rest and looking to come out strong. Flames are stumbling a bit again. I think it'll go over but there are too many issues with that one.
Capitals vs Blue Jackets Betting Tips:
This is one that I initially wrote about above while thinking "I just can't advise this play", but the more I think about it I feel like I have to – as I am going to tip the Blue Jackets to win.
Sure the Capitals have been solid at bouncing back this season. They've bounced back every time they have lost except once where they lost to the Canucks in a shootout.
However the Jackets have had their number this season. Not only have the Jackets beaten them twice in the last few weeks but it was convincing results 3-0 and 5-2. The 3-0 win was a fortunate one for the Jackets but the point still stands and the Jackets will have confidence both from those results, and their current winning run.
Capitals were just fed some humble pie with that loss to the Bruins. Caps are also very weird around this time of year. Last year they went on a 3 game losing streak to end the year and open the New Year. The year before they lost both sides of the break being shutout in two games, and the year prior they came out losing both games after the brief break.
Of course it's hard to say that means anything but for the past couple of years I usually try and stay away from the Capitals around this time. I've watched the games and something always seems off.
Anyway when I add it all up and look at the advanced metrics, I feel the Capitals are way too heavily favoured here. jackets have had no issues recently in coming to Washignton and getting a win – they've won the last three games here.
This is a value play that I feel would be irresponsible not to back. Believe me it's very hard to back against the Capitals but I feel obligated to do so here.
0.5u on Blue Jackets to win incl OT/SO
Canada: 3.00 Odds at Sports Interaction (SIA) + free $20 bet. This is a great time to use the free bet.
USA: +190 Odds at Bovada.
Everyone Else: 3.00 Odds at 888 Sports.
(Odds correct as of 2019/12/27 11:22:46 AM EST but are subject to change.)
An interesting day today where the over/under on games is really low at 6 and 5.5. What games do you guys think go over?
[poll id="62″]
Follow @BetNHL
BetNHL.ca » Tonights Tips » December 27th 2019 NHL Betting Tips