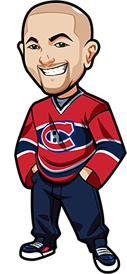 Written by Graeme on Saturday, December 28th, 2019
Follow @BetNHL
Well yesterdays bet was mathematically the right play for sure – alas it didn't work out. We had the Blue Jackets at 3.00 odds and they had a 1-0 lead for a decent chunk of the game over the Capitals. However Washington were able to tie it up and win in OT on a power play. A great effort from the Jackets regardless.
It was all good signs yesterday as my leans were on point. The Devils/Leafs game went over as I expected. Flames/Oilers over was one I had concerns about and that ended up being a push. And the Blackhawks continue to show how volatile they can be.
They were an interesting one as when I was doing my reading yesterday across the web, so many people loved the Islanders in that spot. However much like the Preds for me, Blackhawks have that big "unpredictable" stamp on them and unless I can find about 40,000 reasons to back a bet, I am probably going to avoid games involving them. Basically one of those teams where the odds have to be too good to ignore.
It's Saturday, December 28th and no matinee games today. The NHL doesn't kick off until 7pm EST. Quite nice with EPL action all day long.
Tampa are another one of those frustrating teams. When I see Habs vs Tampa on the card tonight my first thought is "the over". But I just struggle with that Tampa offense at the moment to back them. Looking through it all there's just not enough overwhelming evidence for me to back that. If anything I think it's one of those games that go under.
Leafs/Rangers is one that on paper should go over however I rightly stayed away from that one last week when Leafs played the Wings with the scrub goalies involved, and that was the right call. Leafs on the 2nd leg of a B2B concern me greatly.
I think Flyers can pull it out tonight. They haven't been great on the road this season at all but they seem to be pumped for this road trip.
Todays slate came down to two games for me. The Red Wings/Panthers over or betting the Panthers -1.5 or the Coyotes to beat the Knights. The Coyotes just seemed like such an underwhelming pick to me. Probably win, probably a decent price but I just didn't feel too pumped about betting them.
Panthers vs Red Wings Betting Tips:
The Florida Panthers will be starting Chris Driedger in net. Bobrovsky is being saved for the game against the Habs. I'm hoping that even though the Panthers are looking ahead to that game that they don't slip up against the Wings here.
Driedger has been solid so far for the Panthers. A 2-1-0 record which includes shutting out the Nashville Predators and an excellent performance against the shot heavy Carolina Hurricanes. He kept the Hurricanes at bay until 10 minutes left in the third, when the Panthers had a 3-0 lead and were under a ton of pressure. So I'm not too concerned about him based on what we've seen this season.
Panthers had that humiliating loss to Tampa on the 23rd and have had to wait a few days with that on their minds so I like to think they'll come out super motivated for this one. They have been a bit hit and miss at home this season but overall good.
They played Detroit here back in November and got a 4-0 win.
Wings are the Wings. They don't even seem like that random crap team that can upset on any given night. Something will randomly give them confidence and they'll string a couple of wins together or look competitive and then fall back into mediocrity.
Wings are without Anthony Mantha too. It won't surprise me if the Panthers rest Ekblad today but either way I think they've got what it takes here.
0.5u on Panthers -1.5.
Canada: 1.90 Odds at 888 Sports.
USA: -113 Odds at Bovada.
Everyone Else: 1.90 Odds at 888 Sports.
(Odds correct as of 2019/12/28 11:11:33 AM EST but are subject to change.)
Follow @BetNHL
BetNHL.ca » Tonights Tips »