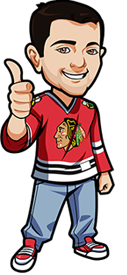 Written by Scott on Thursday, December 29th, 2022
Follow @BetNHL
Only had the one tip yesterday and it was a loss.
I had the Knights to win in regulation against the Ducks but the Ducks won 3-2 in a shootout.
The Pens were up 4-0 after the 1st but the Red Wings scored the next 4 to tie the game and force overtime where they completed the comeback and won 5-4.
The Bruins beat the Devils 3-1 and like I said they would win in regulation if I didn't tip them, had I tipped them they would have won in OT.
Back to a busy night with 11 games scheduled. There are some games where I wanted to make a tip but I can't force them and need to get myself back on track.
Senators vs Capitals
The Caps have won their last 5 games and are at home where they have gone a respectable 11-5-1.
The Sens are coming into this game after that impressive shootout win over the Bruins where Talbot looked amazing.
With all the Caps injuries they continue to play well.
The Caps are playing well but Talbot has shown that he can steal a game. I'm skipping.
Canadiens vs Panthers
The Panthers have had almost a full week off. Hopefully for them they can get themselves back on track as they haven't been playing very well. They have lost their last 3 games and have gone 3-7 over last 10.
The Habs played last night and lost which was their 3rd straight.
We would need to take the Panthers -1.5 to get any value and with all the time off they had and their play of late its not something I want to do.
Red Wings vs Sabres
The Wings should be flying after coming back to win after trailing by 4 goals. But the Sabres are playing well at the moment too. They have won their last 4 games and are 7-2-1 over last 10.
The Sabres are the top ranked team for goals per game.
They played in November and the Sabres won 5-4 in a shootout they also played in October and the Sabres won 8-3.
Over 6.5 incl OT/SO if Husso doesnt play for Wings
Ontario: 1.83 Odds at Sports Interaction (SIA) - Non-Ontario bet $10 get $200
Rest of Canada: 1.83 Odds at Sports Interaction (SIA) - Non-Ontario bet $10 get $200
USA: -118 Odds at BetOnline.
Everyone Else: 1.83 Odds at Bet365 (Americans: We recommend http://www.bovada.lv
(Odds correct as of 2022/12/29 10:11:30 AM EST but are subject to change.)
Rangers vs Lightning
The Rangers are on the road here and this season they have gone 11-5-1 as the visiting team. The Lightning are 13-4-1 at home.
These teams met in the playoffs last year and the Lightning won that series so they have history
This is the 2nd game between these teams this year with the Rangers winning the first 3-1 in both teams season opener.
This is a tough one to predict. The Rangers have gone 8-2 and the Lightning 7-3 over last 10.
I have no idea who wins this one. I would lean towards a Lightning win but not enough to make it a tip.
Blue Jackets vs Islanders
The Jackets struggles continue as they have dropped their last 6 games. They are on the road where they have been bad going 2-10-1. They are ranked 31st in GAPG and 27th in GPG.
The Isles are the obvious favorites here and the odds make this a tough game to predict.
With the Jackets struggles, their road record and the Isles home record, 11-6-0 and the Isles have won the last 5 games against the Jackets I think they have a chance here. It needs to be in regulation
Isles in regulation
Ontario: 1.71 Odds at Bet365 (Americans: We recommend http://www.bovada.lv
Rest of Canada: 1.71 Odds at Bet365 (Americans: We recommend http://www.bovada.lv
USA: -165 Odds at BetOnline.
Everyone Else: 1.71 Odds at Bet365 (Americans: We recommend http://www.bovada.lv
(Odds correct as of 2022/12/29 10:11:30 AM EST but are subject to change.)
Stars vs Wild
This should be a good game between the 1st and 3rd ranked teams in the Central and both are playing well over their last 10 with the Stars going 7-2-1 and the Wild 7-3.
This is a game that could go either way. The Stars are 11-5-3 on the road and the Wild are 11-6-1 at home.
I thought about taking the over but both teams allow less than 3 goals a game. I keep it safe and skip this game.
Blackhawks vs Blues
Ya its the Hawks so not sure that there is any point diving into this game with the Blues on a 3 game losing skid.
Canucks vs Jets
The Canucks have win their last 3 and the Jets lost their last 3.
They played earlier this month and the Jets won 5-1.
I do like the Jets to win but it would need to be in regulation. With the Canucks on a run and the Jets on a skid its tough to make that play.
Kings vs Avalanche
This is another game where the home and away records make it tough to predict.
The Kings have gone 9-7-4 on the road and the Avs have gone 9-5-2 at home. Over last 10 the Kings have gone 6-2-2 and the Avs 6-3-1.
Another game where I have to skip. With all the injuries you would think that the Kings should win but Colorado has shown they can still be competitive with those players out.
Maple Leafs vs Coyotes
The Leafs have been off since last Thursday and are riding a 3 game win streak.
The Coyotes have won their last 2 games and are in 7th place in the Central.
They played back in October and the Coyotes won 4-2.
I like the Leafs to win here but it would need to be -1.5. The Leafs road record of 9-5-3 and the Coyotes home record of 6-3-2 doesn't give me lots of confidence in that play and regulation odds are too low.
Flyers vs Sharks
The Flyers are starting Samuel Ersson who is making his 2nd NHL start. His first game wasn't an impressive showing where he allowed 5 goals on 30 shots.
This game has nothing I like so I'm skipping. With the goalie the Flyers have and his recent results it could be a game the Sharks win but I have no idea.
Follow @BetNHL
BetNHL.ca » Tonights Tips »