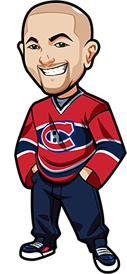 Written by Graeme on Saturday, December 2nd, 2017
It was a solid start to December with a 2-0 night last night.
The Jets continued to prove they are a great bounce back team with a solid 7-4 win over the Vegas Knights. That "bounce back" form never lasts as eventually it wears on a team but if they string together a couple of wins here they should keep it going a little bit longer.
We also won with the Devils over the Avs. It was a tight game as expected but the Devils put in a very solid performance and looked good in the win. Hopefully for Devils fans they can build on that.
The Penguins made it 3 games in a row with the Sabres being shut out as they won 4-0. That's one bet I think we missed out on. We were too focused on looking at a team who has two shutouts against them in a row and if there was any trend there. We couldn't see anything so skipped that game – when we probably should have reevaluated it and most likely went with the Penguins.
They were a surprisingly good price yesterday at 1.71 incl OT/SO. I've said it before but be sure to read the comments each day to get additional insights at the bottom of each post. Yesterday SanDiegoBruins was incredibly enthusiastic about the Penguins winning and had me kicking myself for that oversight. I'm sure quite a few people backed them due to his enthusiasm – I know I did – so thanks for that SDB, and be sure to read the comments as you'll find some gems in there.
It's possible we MAY post additional tips in the comments too as team news comes out. Like after reading his posts I probably would have tipped the Pens last night. An oversight for Oilers/Leafs had me thinking Talbot was in net when it was Brossoit – another one where I probably would have went with the over or Leafs when I learned that. So be sure to glance at the comments each day prior to the games just in case!
Bruins vs Flyers Betting Tips:
Flyers go into this on a 9 game losing streak. I don't think it's all to do with losing Gudas but man they have some real issues. They're really struggling at the moment and the heads are starting to go down after some fighting performances against the Penguins and Islanders.
However I think they'll rise to the occasion here. They know the Bruins are rolling with Rask again and with him struggling will be confident they can get a couple of goals. I expect Philly go with Elliott who has been conceding like crazy lately and I don't see that trend changing.
The Bruins offense is ticking with a lot of players back and with Rask in net, you usually see a more offense orientated Boston team.
So we'll take Over 5.5 Goals incl OT/SO in this game.
Canada: 1.95 Odds at Bet365.
USA: -110 Odds at GT Bets.
Everyone Else: 1.95 Odds at Bet365.
Bitcoin: Bet at Nitrogen Sports.
(Odds correct as of 2017/12/02 11:52:16 AM EST but are subject to change.)
Lightning vs Sharks Betting Tips:
Going into this one, the Sharks are the much better performing team. Tampa have been struggling. San Joses road performances have been good all season.
Tampa at home haven't really been that impressive to be honest. Couple of big wins over some struggling teams, lot of games going to OT – really only a couple of convincing victories at home.
Sharks are looking to get Jones back tonight which should be huge too and give them extra confidence.
We like Sharks to pull off the upset tonight. With 3 of Tampas last 5 home games going to OT however, we'll factor that in.
Sharks to win incl OT/SO
Canada: 2.50 Odds at Sports Interaction + $20 Free Money Line Bet – PERFECT for this game.
USA: +145 Odds at GT Bets.
Everyone Else: 2.45 Odds at Bet365.
Bitcoin: Bet at Nitrogen Sports.
(Odds correct as of 2017/12/02 11:52:16 AM EST but are subject to change.)
Oilers vs Flames Betting Tips:
Brossoit is expected in again tonight for the Oilers. We saw against the Leafs how that affects the Oilers.
Flames last 3 games have went under but they've had some notoriously high scoring games at home and their offense is confident with the performance of Jankowski on Thursday.
The Mike Smith vs Oilers curse has been laid to rest in recent times and so we like the Battle of Alberta to be a fiery one.
Over 6 Goals incl OT/SO
Canada: 1.95 Odds at Bet365.
USA: -110 Odds at GT Bets.
Everyone Else: 1.95 Odds at Bet365.
Bitcoin: Bet at Nitrogen Sports.
(Odds correct as of 2017/12/02 11:52:16 AM EST but are subject to change.)
OHL / WHL / AHL / KHL Betting Tips:
(All below systems are based mainly on mathematics and statistics with very little human input and are deemed experimental. )
WHL Betting Tips (11-12, -2.67u): Kelowna Rockets in regulation at 1.70 odds.1/2 u on Spokane Chiefs inclo OT/SO at 2.17 odds.
AHL Betting Tips (7-9, -2.15u): Toronto Marlies in reg 1.60 odds. Syracuse in reg 2.00 odds. Manitoba in reg 1.95 odds.
KHL Betting Tips (17-13, +2.31u): System likes Traktor at 1.72 odds. Also CSKA at 1.32 odds which you can throw in a double at 2.27 odds if you wanted.
OHL, WHL & AHL & KHL Betting:
Canadians: Bodog and 888 Sports.
Americans: Bovada.
Everyone Else: 888 Sports.
Best America Sportsbooks for NHL
BetNHL.ca » Tonights Tips » December 2nd, 2017 NHL Betting Tips