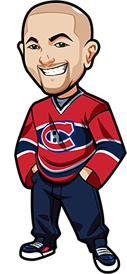 Written by Graeme on Friday, December 2nd, 2022
Follow @BetNHL
It was a winning start to the month, as we went 2-0.
We had both the Avs and Hurricanes to get the wins in regulation. Both games were fun to watch, and luckily we were able to come out on the right side of them.
On an even brighter note – I'm now sitting back at my Windows desktop to do tips. Those two weeks where I was having to use my Macbook, and remote in to my Windows machine was mental.
I did love using the Macbook, but the time it takes to do stuff on laptop vs desktop is just crazy. Good to be back and more productive now.
A nice three game slate to ease me into the weekend. Let's get to it:
Rangers vs Senators:
Rangers hefty favourites. They did just beat the Sens on Wed. I always hate backing those back to back style games. That one was actually a real 50/50 game too. The overall metrics have that game quite close. Sens were the better team up until they scored then that kind of changed the game.
By the metrics, Sens aren't a bad play. Their biggest problem right now is they can't score goals based off the xG they have. That should change soon. Not sure Rangers are the team to do that against though. Sharks tomorrow maybe. I'd pass on this one although I won't be surprised if Sens get the win.
Islanders vs Predators:
Preds on a B2B after just beating the Devils. They've been quite the weird team lately. They will look to carry momentum into this one.
Islanders had a nice little winning run cut short against Philly. Another weird team. Sure shut out the Oilers, thump Philly, then lose to them. Why not.
Betting is always interesting. Sometimes I go in with a very open mind, other times I go in with an idea for a bet in mind, and am looking for the data to justify it. This one is the latter, with me liking the Islanders.
Most of the metrics are similar. Islanders goals scored against is better. Preds offense underperforming, Islanders offense about on point. Islanders goaltending a big factor for them, Preds slightly less so. Islanders a higher SCGF/60 which is a metric I like to see. Although Islanders not capitalizing on the high danger chances as much.
Lankinen expected in net. I just don't think the odds are here for this one. I'd have it at 50/50 with maybe leaning towards the Islanders as very slight favourites. But Islanders in regulation would have to be a play, and that is exactly a coinflip at 2.00.
So I feel that would be a 0EV play, and unfortunately have to pass.
Jets vs Jackets:
Jets come in after utterly destroying the Avs. Jackets have been a mixed bag lately. Couple of decent results, couple of tight losses. Not a pushover for sure.
Jets are very heavy favourites to where in regulation isn't even a play.
Jackets are pretty close to them offensively but the Jackets defensive and goal metrics are pretty bad. Jets with an SCGF/60 of 3.18 and Jackets SCGA/60
Yeah I don't see a bet here. Jets in regulation is too low at below 1.70 at most sportsbooks. We'll occasionally dip below that but not this one with the Jackets being at least competitive, and Winnipeg just a team I find it hard to count on. I do hope they continue this run from the last two games and start pounding teams but it's hard to see that.
Follow @BetNHL
BetNHL.ca » Tonights Tips »