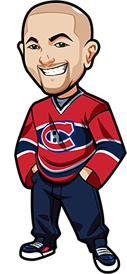 Written by Graeme on Saturday, December 30th, 2017
Follow @BetNHL
Well it was a night with many surprising NHL results and unfortunately we were on the tail end of two of them.
I haven't had a chance to catch highlights yet but it looks like my fear of the Blackhawks stepping up due to Glass being in net were true. They are a very weird team when it comes to motivation and what seems to isnpire them. Although in saying that Glass looked to have a good performance racking up 42 saves.
We had the Devils against the Sabres and while the Devils outshot them, Buffalo fought hard and manged to get the W in OT.
It's a Saturday with a rare low of 6 games which is nice as gives me time to actually look through them. Off to watch the Old Firm match today.
Canadiens vs Panthers Betting Tips:
The Habs are just not having a good time at the moment.
Price is struggling and the team itself is just playing some absolutely dire and uninspired hockey.
The Panthers are a team that always put up a fighting performance at home and they've had 3 solid if tight victories here in a row.
I'm going to back them to make it 4.
Panthers to win incl OT/SO
That's all I've got for tonight. I think the Capitals probably beat the Devils but no odds yet and I don't think they'll be good enough anyway – I'd prefer OT/SO on that one.
Hurricanes will probably be underdogs against the Blues and the price is a big decider on that one – but the Canes road form hasn't been great so I'm staying away from that.
Follow @BetNHL
BetNHL.ca » Tonights Tips »