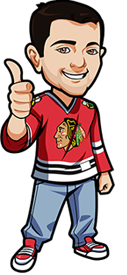 Written by Scott on Monday, December 30th, 2019
Follow @BetNHL
 
It was a busy day of action yesterday. We had 1 tip and we won it.
We had the Bruins to win in regulation against the Sabres. This was a close one but the Bruins won 3-2. Jake DeBrusk scored 2 power-play goals 18 seconds apart in the 3rd for the Bruins and they held on for the win.
The Blackhawks beat the Blue Jackets 3-2 in a shootout. The Hawks were down 2-0 after the 1st period but managed to score twice in the 3rd and win it in the shootout. The Jackets starting goalie Joonas Korpisalo was injured in the 1st round and had to leave the game.
The Devils got a slick overtime goal from Jack Hughes when the beat the Sens 4-3 in OT. The Lightning beat the Red Wings 2-1 and for the Bolts this was their 16th straight win against the Wings.
After a nice and busy day of action we have only one game today. Our area has been covered in ice thanks to hours of freezing rain and I'm not sure when it is going to stop. Should make for an interesting drive to work tonight. To make matters worse for me is all 3 of my kids are really sick with temperatures hitting 104°. With Christmas over I thought we were done giving people things but I guess my kids missed the memo and shared the worse possible thing with each other.
With only one game I couldn't come up with a tip. I would like to think that the Penguins wil win this game but the odds are not worth it. And despite all of the injuries the Penguins have faced this season, they are still in the playoff picture. The Sens have gained a point in 5 straight games so even a regulation win for the Pens isn't worth it.
[poll id="63″]
Follow @BetNHL
BetNHL.ca » Tonights Tips »