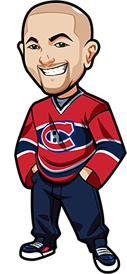 Written by Graeme on Friday, December 31st, 2021
Follow @BetNHL
Hi all,
It was an unfortunate 0-2 last night with both teams picked losing in overtime.
Preds disappointed and it's why I have personally swore off them this year; just can't trust them at all. Every season it seems I end up feeling the same way about the Preds. Not sure what they are putting in the water in Nashville.
Canucks at least gained another point and it's an impressive run for them.
Man – feels so weird sitting here writing hockey tips again. The last time I was here was only 11 days ago but it feels like a year. Honestly with all the COVID crap affecting this and the NFL etc I kind of mentally checked out of sports for the last week.
I'm going to ease myself back in here. It's honestly depressing looking at the injury reports for some of these teams. Then that long break as well.
Devils vs Oilers:
Devils come in off a big 4-3 win away to the Sabres. Oilers returned with a 4-2 loss to the Blues.
Oilers only have Kassian on the COVID list now. This is a big spot for them and I think they really want to wrap up the season with a win. Samorukov looked pretty darn poor in his debut eh? Just didn't look like he fit in there at all.
Anyway after their performances all through December, Oilers aren't backable for me.
Knights vs Ducks:
Knights first game back was a 6-3 win over the Kings. Ducks was against the Canucks where they lost in OT.
Ducks are missing Zegras and a few others. Vegas of course without a few key players too. Stone wasn't practising yesterday.
Ducks are no pushover but man the Knights have overcame a lot this season. Marchessault coming off that big game.
Brossoit in net I expect. Winning record this season but by gosh he has been leaky the past couple of games with a brutal save percentage. It's not like Kings and Lightning are offensive juggernauts either.
Looking at the adavnced metrics for a trend – the big one was high danger chances. Knights have the third highest HDCA/60 while Kings have 2nd HDCF/60 and Tampa 4th.
Ducks are down in 16th there. That does seem to be a big part of it. Not the entire story or anything – but I think I was looking to back Knights here and that's helped convince me.
I know it seems a bit mental considering the Ducks have only had one regulation loss in their last 11 games but a gut play where I've found the metrics to hopefully back it.
Knights in Regulation
Canada: 1.85 Odds at Casumo
USA: -125 Odds at Bovada.
Everyone Else: 1.85 Odds at Casumo
(Odds correct as of 2021/12/31 11:54:55 AM EST but are subject to change.)
Lightning vs Rangers:
Tampa coming off that drubbing. I've no idea what to expect. Would like to back the bounce back especially at home and at those odds – but they aren't really a bounce back team this season. With their goalies out, they are ripe for getting thumped as well.
Rangers have been solid enough on the road with an 11-5-2 record.
I want to back the Rangers here but with Tampa's goalie, they're going to have to push the offense harder. Kind of makes the over tempting too.
Last time these two played Tampa blasted them 9-3. That's gotta be motivating for the Rangers.
Going to go with over 6 goals incl OT/SO here. B2B 2nd leg hasn't been an issue for the Lightning really this season in the goals department.
Canada: 1.98 Odds at BetOnline..
USA: -102 Odds at BetOnline..
Everyone Else: 1.98 Odds at BetOnline..
(Odds correct as of 2021/12/31 11:54:55 AM EST but are subject to change.)
Red Wings vs Capitals:
No bet. I see a lot of people on Caps in regulation but that play concerns me at the odds. Wings a solid home team this year.
Follow @BetNHL
BetNHL.ca » Tonights Tips »