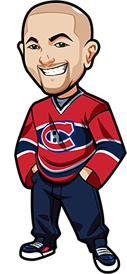 Written by Graeme on Saturday, December 3rd, 2016
Follow @BetNHL
We won with our lone tip last night of the Sharks beating the Habs.
San Jose took an early lead just as I expected and the Habs couldn't tie it up. To their credit they tried and hit the crossbar and post a few times. However on the other end of the ice Price made some key saves as well. There were two solid goaltending performances last night in that game.
In the other game the Calgary Flames snuck out the win over the Minnesota Wild. It was a typical battling performance from Calgary but I was impressed with how offensive they were forcing Dubs into 29 saves.
We move onto Saturday with a busy schedule including 4 early games. I'm very curious about the Bruins vs Sabres game. This Sabres offense is on fire but they're going up against Rask so that's going to be a very interesting one.
These aren't actual tips but I was very close to taking the Senators for the win. They're a nice price at 2.10 odds and I'm just not convinced on the Panthers at the moment. Luongo has been scary good lately though, Ryans injury and the Sens goaltending situation is just enough to put me off.
I also think the Capitals pull out the win in Tampa. But when it comes down to it my main reasoning is "I can't see the Capitals losing 3 games in a row" so obviously that's not enough for a pick.
Let's see what we've got today in official betting tips: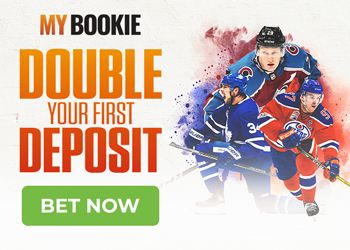 Predators vs Devils Betting Tips:
You just can't bet against the Predators at home at the moment. Nashville are really clicking. This is by no means an easy game – the Devils play some damn tight hockey and love to take games to OT with the most games to OT in the league.
Games between the two have always been tight. Honestly if you're someone who bets OT regularly this is probably a good spot for that especially with Hall back. However I think the Predators are on a roll. They've just looked so dominant at home I've got to take them.
Predators in Regulation.
Canada: 2.08 Odds at BetOnline..
USA: -+107 Odds at BetOnline..
Everyone Else: 2.08 Odds at BetOnline..
Penguins vs Red Wings Betting Tips:
It was nice having that bet on the Wings/Panthers game on Thursday. It allowed me to really focus on Detroit more and watch them over the course of an entire game. And I gotta say I wasn't impressed. They look extremely sloppy. It wouldn't surprise me if their defense were high as kites throughout the game. They just had no drive to them.
It's been a rough couple of weeks for Pittsburgh. However they got back on track with a big win over the Dallas Stars and I like them to continue that form. They're very good at home, have a good record against Detroit and I feel their players are going to take advantage of the Red Wings slack play. I feel confident in the Pens tonight to the point I was very tempted to take them at -1.5 but I'll lessen the risk here as Wings have been surprisingly tight lately.
Penguins in Regulation.
Canada: 1.82 Odds at 888 Sports.
USA: -122 Odds at BetOnline..
Everyone Else: 1.82 Odds at 888 Sports.
$25 risk free bets on player prop, in-game bet and $50 risk free mobile bet. Available for NEW customers only at BetOnline.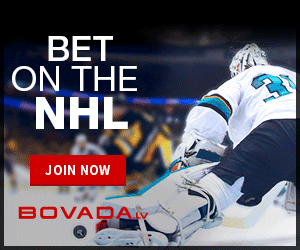 Leafs vs Canucks Betting Tips:
A lot of bad blood and drama going into this one and it could be a heated game with a lot of penalties. Both teams are going to want to win this one that little bit more. Canucks are above average scoring at home and while the Leafs on the road haven't shown a lot of offensive prowess – I like them to bounce back strong after being shut out against the Flames the other night.
Over 5.5 Goals incl OT/SO..
Canada: 2.00 Odds at Sports Interaction + $20 Free Bet.
USA: +100 Odds at Bovada.
Everyone Else: 2.00 Odds at Bet365 (Americans: We recommend http://www.bovada.lv.
Avalanche vs Stars Betting Tips:
This is one of those games where before I even glanced at it I said "Oh it's going to be high scoring". So that's probably affected my judgement somewhat – instead of looking at it with no bias I'm looking to back up my reasoning for it to go over 5.5 goals.
Neither goalie is exactly lighting the world on fire. Both teams are on losing streaks and want to turn it around so they're going to be throwing caution to the wind that much more. Lot of high scoring games when the two teams meet. The only real negative are their overall stats for the season on offense – both are below average. However both of their defenses are terrible.
Over 5.5 Goals incl OT/SO.
Canada: 2.10 Odds at Sports Interaction + $20 Free Bet.
USA: +100 Odds at Bovada.
Everyone Else: 1.95 Odds at Bet365 (Americans: We recommend http://www.bovada.lv.
Mathematical/Experimental Betting Systems:
(All below systems are based mainly on mathematics and statistics with very little human input and are deemed experimental. Previous Records: 1st Period System 30-36 (+15.99u), OHL 28-15 (+17.15u)
1st Period System (8-17, -0.8u): Florida Panthers 2.95.
OHL Betting Tips(7-9, -2.25u): Peterborough Petes in regulation at 1.90 odds.
WHL Betting Tips(16-12, +1.31u): Spokane Chiefs at 2.85.
AHL Betting Tips(8-5, +2.41u): Ontario Reign to win at 1.68 odds.
1st Period Betting:
Canadians: Sports Interaction, Bet365 (Americans: We recommend http://www.bovada.lv & 888 Sports.
Americans: BetOnline. or Bovada.
Everyone Else: Bet365 (Americans: We recommend http://www.bovada.lv or 888 Sports.
OHL, WHL & AHL Betting:
Canadians: Bodog and 888 Sports.
Americans: Bovada.
Everyone Else: 888 Sports.
Follow @BetNHL
BetNHL.ca » Tonights Tips » December 3rd, 2016 NHL Betting Tips