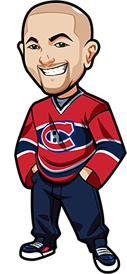 Written by Graeme on Saturday, December 4th, 2021
Follow @BetNHL
No tips yesterday but it was a hell of a night of hockey.
Rangers vs Sharks was the tight game I expected. Jets bounced back strong after that Coyotes loss which is what I was concerned about. Knights absolutely decimated the Coyotes.
Kraken vs Oilers was the game I just wasn't sure about. I didn't actually mention anything yesterday but that would have been goalie dependent if I was backing the Oilers. With Skinner in, I felt better about the over in that one.
Heck of a game. Oilers get a night off then host the Kings.
Right – usual Saturday slate.
Panthers vs Blues:
Panthers come in on a two game win streak but man they are conceding big time at the moment. That Sabres game was nuts. Blues have had a good last couple of weeks.
This one seems fine to take the over right? Panthers of course have a nuts offense. Blues have had a lot of high scoring games lately both conceding and scoring. Bob has so many games recently where he's conceded a lot.
The only concern is if he steps up after that last game – in which case you'd want to take Panthers in regulation. Panthers are one of the best advanced defensive metric teams in the league. So are Tampa and Blues got some goals against them. Ditto for the Canes.
Panthers without Barkov and Duclair but that hasn't stopped them. Husso has been decent this season.
I certainly have my concerns about the Panthers but this seems like a winnable game for them. Panthers in Regulation if Bobrovsky is in net.
Canada: 1.94 Odds at Casumo
USA: -110 Odds at Bovada.
Everyone Else: 1.94 Odds at Casumo
(Odds correct as of 2021/12/04 10:04:01 AM EST but are subject to change.)
Predators vs Canadiens:
Preds should win. Backed them against the Bruins and they got blanked which hurt. Would like to see a bounce back game from them here. Especially considering last time, Habs thumped them 6-3.
Swayman was great in that game and I think we have a properly motivated Preds team. We know how the Habs are and they are without Gallagher and Niku. Plus Anderson is out. With the injuries, Preds motivated etc – gotta take them.
Preds in Regulation
Canada: 1.80 Odds at Bet365 (Americans: We recommend http://www.bovada.lv.
USA: -135 Odds at BetOnline..
Everyone Else: 1.80 Odds at Bet365 (Americans: We recommend http://www.bovada.lv.
(Odds correct as of 2021/12/04 10:04:01 AM EST but are subject to change.)
Capitals vs Jackets:
Capitals looking to bounce back after that Blackhawks game. Ovi hasn't scored in a couple and feels like he'll get on the scoresheet here. Elvis in net I expect.
Feels like a good spot for the Caps to get back on track. Jackets concede a lot of chances and are struggling a fair bit at the moment. When you look at their record, they generally lose to the better teams. These two played last month and Washington won 4-3 away.
Yeah I like the Caps here. Just feels like a good spot for them to flex their muscle, and return to winning form. Capitals in Regulation
Canada: 1.76 Odds at Casumo
USA: -145 Odds at Bovada.
Everyone Else: 1.76 Odds at Casumo
(Odds correct as of 2021/12/04 10:04:01 AM EST but are subject to change.)
Bruins vs Lightning:
Not sure if Bruins should be favourites here. They have been rather iffy this season. Tampa just feel a bit erratic to me. Their road form lately is a cause for concern. Actually all season. In regulation wins over Senators and Penguins and that's it. That's putting me off. If they were at home I'd take them no question.
Senators vs Avs:
Sens coming home after that massive win over the Hurricanes. Would have to take Avs -1.5 which I am not a fan of on the road. Especially considering they barely covered that against the Sens at home. It's not the worst bet – Sens generally lose by 2 or more. But it feels like a coinflip which is what the odds are.
Hurricanes vs Sabres:
Would almost want to suggest a cheeky bet on the Sabres here based on the price. Hurricanes are a big cause for concern at the moment. Can't back them -1.5 at all here. Subban to start for the Sabres I expect. Not sure how he will do. Just can't advise Buffalo.
Wild vs Leafs:
I was very impressed with the Leafs against Colorado. They have struggled against high advanced defensive metric teams so to put 8 past them was great.
Now they're on the road where they have also been on a tear. Wild however are a big test and come in on a good run themselves.
Odds seem about right for this game and no play for me. If I were betting I'd go with Leafs if Campbell in net. Amazing that we're at a point where you can actually have faith in the Leafs. Big test for them.
Red Wings vs Islanders:
Red Wings not a bad shout here. Some solid performances lately. Islanders just brutal. They will look to at least build off their first point in what feels like a year. Still with players out with injuries and COVID related.
This actually does seem like a good spot to back the Wings. Islanders also have a game tomorrow while Wings have a couple days off so will be up for giving it their all.
I've went back and forth on this one. There's something that has me not fully convinced. Islanders now back playing again, a point to build off etc.
With most players back for the Isles it seems tonight – I'll pass on this.
Rangers vs Blackhawks:
I like Rangers here – they have been excellent as of late. But the back to back is a cause for concern. Georgiev in net as well. Yeah no thanks.
Canucks vs Penguins:
Canucks with two wins in a row now host the Penguins. These two played 10 days ago in Pittsburgh and it was a 4-1 win for the Pens
The Canucks at about 2.20 are actually a pretty decent price. Penguins are such an off team at the moment.
I just can't back the Canucks though at this point. Especially going up against Jarry who other than that Oilers game has been a beast.
Follow @BetNHL
BetNHL.ca » Tonights Tips »