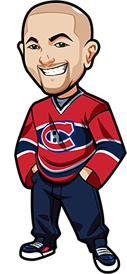 Written by Graeme on Sunday, December 5th, 2021
Follow @BetNHL
Hi guys,
It was a 1-2 day yesterday.
Backed three teams, all three got the win. Alas, we had them in regulation and only the Capitals were able to get the job done for us.
The Panthers just kept having to fight back and the Predators also had to come back twice. Very frustrating. That's twice now the Predators have burnt us and I think it's time to take a break from betting on them for a bit.
Good night of hockey. That Leafs/Wild game was nuts, as was the Avs/Sens.
We move onto Sunday. Always a tough day with some B2Bs in there but let's see if there is anything worth betting:
Islanders vs Blackhawks:
Tight one for the Islanders last night. Another point, another loss. But now they are fairly heavy favourites against the Blackhawks.
Not sure they should be so heavily favoured here. But there comes a point in a teams losing streak where it's just so hard to bet against them, and this is that point. Plus bear in mind a lot of their losing streak was due to missing players and almost everyone is back now.
At about 2.35-2.40 odds, I really don't hate a bet on rolling the dice on the Blackhawks here. But it's not something I can advise as when I look at the game, I feel like Islanders end their bad run tonight.
Jets vs Leafs:
I was hoping for better odds on the Jets to advise a small bet on them but that's not the case. I'd need at least 2.20 and maybe even 2.30 to actually advise.
The Jets are that team that can randomly show up. Go from getting pumped by the Wild to beating the Flames. Then being shut out by the freaking Coyotes to putting 8 past the Devils.
If Campbell isn't in net and the Jets were slightly better odds I'd like a little flutter on Winnipeg. At this price – no bet.
Oilers vs Kings:
Oilers come in off that Kraken loss. They have been a good bounce back team this season. Now facing a .500 Kings team who come in with a good recent road record.
Oilers are tremendous at home though 9-1-0 and like I said – are a bounce back team. Ceci may be back and Nurse is getting close to being back which is big news.
The majority of the Oilers wins at home are in regulation. The amount of goals they concede is certainly troubling, but this looks like a good spot for them here. Kings are actually a top 10 team in the advanced offensive metrics on 5 vs 5. Oilers have played a few teams like that though and came through with flying colours.
This could be a similar game for Edmonton like last time – but here, I like them to come out on top. Oilers in Regulation if Koskinen in net.
Canada: 1.81 Odds at Casumo
USA: -130 Odds at Bovada.
Everyone Else: 1.81 Odds at Casumo
(Odds correct as of 2021/12/05 8:18:37 AM EST but are subject to change.)
Knights vs Flames:
This should be a great game. Close to coinflip odds with Knights favoured slightly due to being at home. They're only 7-5-0 at home but that's tainted due to some key injury losses.
Flames are 11-2-2 on the road and a beast.
Knights feeling good after that 7-1 win over the Coyotes and will come in with confidence. But the Flames and Coyotes are on the opposite end of the spectrum.
Flames have had a rough time of it in Vegas. 6 games, 6 losses, 3 shutouts.
If Markstrom is in net, a slight lean to the Flames here. Just not enough to feel confident about. Flames have beaten better teams than the Knights have though. Knights have had one of the easiest schedules thus far.
I'm super close to advising the Flames here But after looking back and studying that Knights vs Oilers game from last week – I'm going to give it a pass. I felt Knights were fairly unlucky in that one.
Flyers vs Lightning:
A rested Flyers team who haven't won at home in regulation since they beat the Coyotes on November 2nd, look to take on Tampa who are on a B2B.
Problem is Flyers just still have the long injury list and it keeps being added to. Tampa also missing a couple of course.
I think if Flyers can dig deep, they can get the win here but this is an easy no bet for me.
Blue Jackets vs Sharks:
An intriguing one. Jackets are a fairly solid home team. 8-3-0 record actually – better than I thought. Sharks are solid on the road 8-6-0.
Sharks struggling to score at the moment unless it's against crap defensive teams. Actually even then they couldn't get the goals going against the Islanders (although Islanders metrics obviously a bit tainted).
Problem is Jackets are one of those crap defensive teams. Goaltending and defense generally letting them down this season.
Jackets also struggling to score at the moment – but like I said, at home they do seem to do the job. Concern is that Jackets on a back to back, Sharks are not.
Elvis playing tonight which is nice.
If Jackets weren't on that B2B, I think I would take them due to the strength of their home form. But when I break down home performances by the advanced metrics, Jackets are still horrible there. Worst FA/60 in 5 vs 5 for example, 3rd worst CA/60.
So unfortunately no bet in this one – but I do like the Jackets.
Follow @BetNHL
BetNHL.ca » Tonights Tips »