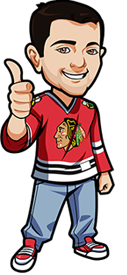 Written by Scott on Monday, December 5th, 2022
Follow @BetNHL
We had 2 tips yesterday and went 1-1.
Had over 6.5 in the Sharks vs Sabres game and this came through when the Sabres won 6-3.
We also had over 6.5 in the Wings vs Jackets game but this hit 6 when the Wings won 4-2. 7.27 xG what ya gonna do. Jackets really should have scored at the end there.
The Stars scored 4 times in the 3rd to tie the game but the Wild won 6-5 in a shootout. Hintz scored his second career hat trick in the loss.
We have a decent night of hockey for us with 6 games scheduled.
Knights vs Bruins
This should be a good game.
The Knights are 5-4-1 over their last 10, are ranked 10th in GPG with 3.42 and 5th in GAPG with 2.62. They are on the road here where they have gone 11-2-1.
The Bruins are the best team in the league right now. They are ranked 1st in GPG with 4, 1st in GAPG with 2.13, have the 3rd best powerplay and 2nd best penalty kill. They are at home where they are on a NHL record 14-0.
The Bruins last 3 home games were against some tough teams the Avalanche, the Lightning and the Hurricanes who bounced them from the playoffs last year.
It's hard to bet against the Bruins anytime but when they are at home we have no choice but to bet them.
Bruins in regulation
Ontario: 1.95 Odds at Bet365 (Americans: We recommend http://www.bovada.lv
Rest of Canada: 1.95 Odds at Bet365 (Americans: We recommend http://www.bovada.lv
USA: -120 Odds at BetOnline.
Everyone Else: 1.95 Odds at Bet365 (Americans: We recommend http://www.bovada.lv
(Odds correct as of 2022/12/05 8:21:09 AM EST but are subject to change.)
Blues vs Rangers
Both of these teams have been hard to predict this season.
The Blues have lost their last 3 and are 6-7 on the road and 11-13 overall. The Rangers have lost their last 2, are 4-6-4 at home and 11-10-5 overall.
I am skipping this game as both teams are just too tricky to try and predict.
Avalanche vs Flyers
The Avalanche are coming off of that loss to the Bruins where they looked bad. They have gone 6-4 over their last 10.
The Flyers continue to struggle. They have gone 1-6-3 over their last 10 and are at home where they have gone 5-7-1.
The Avalanche are still banged up and have 8 players on the IR and 1, Lehkonen, who's day-to-day. But luckily for them they are a deep team and one of the few who can withstand all of the injuries and still be competitive.
I do like the Avs to win but they are on the road and we have to take them in regulation and the odds for that are 1.76 which isn't enough to make a tip.
Capitals vs Oilers
The Caps are still trying to get to .500 on the year and are currently 10-12-4 and on the road where they have gone 3-8-3.
The Oilers are 6-4 over their last 10 and in Edmonton with a home record of 7-6.
Kuemper left the last game after getting hit in the head so if he misses any time Lindgren would take over the starts for the Caps.
The Caps have had a bad start to the year but looking at their injuries you can see why. They played once this season and it was the Caps winning 5-4.
I'm skipping this game. The Oilers should win but their home record doesn't give me enough confidence to make it a tip.
Coyotes vs Flames
The Coyotes have lost their last 4 straight and are 2-5-3 over their last 10.
The Flames won their last game and are 5-4-1 over last 10.
The Coyotes road record this season is 6-9-3, the Flames at home have gone 8-5-1.
With the Flames the heavy favorites here we have to determine if they are worth taking with their record over the last 10. A -1.5 play on the Flames has odds of only 1.83 which is just too low for me.
Canadiens vs Canucks
There is nothing from this game that I like. Both teams are around .500 and haven't given me any reason to back them.
I would give the slight edge to the Habs here but they are on the road so it makes it that much tougher to predict.
Follow @BetNHL
BetNHL.ca » Tonights Tips »