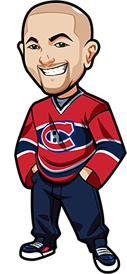 Written by Graeme on Thursday, December 6th, 2018
Follow @BetNHL
Sorry for the delay in tips today.
Crazy times in Kingston right now. Some guy has been calling the schools and saying he has an AR-15 and a bunch of pipe bombs. He caused four schools to go into lockdown mode yesterday, and five or six today so far including my kids school.
Made for a rather crappy and distracting day when you have all that going on and your kids all worried about it. As hey even though it all appears to be hoaxes – you just never know if it's a setup for something down the road. Scary.
Right both kids are home and safe so time to get on with the NHL Tips. Last night was a winning night with the Oilers winning and the Sharks winning in regulation.
Ducks also got a win and they're slowly starting to come off my "do not bet" list. Think I want to wait for them to lose though and see how they recover before going with that.
Let's get to the tips and I'll be quick as I know it's late.
Leafs & Knights Double:
We rarely do parlays or anything like that on here. The reason is that hockey has such high variance that it's tough enough risking it on one game let alone two.
In saying that we're going with a double of Leafs in Regulation and Knights in Regulation.
Leafs look like they will be starting Sparks tonight. Always a slight concern but the guy needs more games anyway to keep him sharp. Nylander is back tonight and Leafs can usually outscore their opponents so should be all good. Sparks being in net made me hesitate just a tad about the handicap.
Knights are looking excellent at the moment and the Hawks are not. Simple as that ha. Been really impressed with Vegas lately and they don't look like they are ready to slip up.
0.5u on a double of Leafs & Knights in regulation – 2.51 odds at Casumo.
And honestly guys not really seeing much else today. Lot of possibilities but also a lot of question marks and a lot of crappy lines. Think I will make this the only play. Be sure to check the comments though as there will be lots of picks and analysis in there.
OHL / WHL / AHL / KHL / Czech Extraliga Betting Tips:
(All below systems are based mainly on mathematics and statistics with very little human input and are deemed experimental. )
OHL Betting Tips (8-7, -+0.25u): 0.5u on Petes in reg 2.05. 0.5u on Spitfires in reg 2.00.
Where To Bet the Non-NHL Leagues:
Canadians: Bodog and 888 Sports.
Americans: Bovada.
Everyone Else: 888 Sports.
Follow @BetNHL
BetNHL.ca » Tonights Tips »