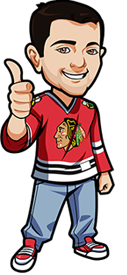 Written by Scott on Tuesday, December 6th, 2022
Follow @BetNHL
Had 1 tip yesterday. I had the Bruins to win in regulation against the Knights. They were down 3-0 but came back to tie it. But it went to overtime so it was a loss. In the end it was the Knights winning 4-3 in a shootout. The loss snapped the Bruins home win streak at 14 games.
The Flyers beat the Avs 5-3, the Habs were up 4-0 but the Canucks came back to win it 7-6 in OT and the Flames beat the Coyotes 3-2.
I have to keep these short today. My wife took the day off of work so we could finish our Christmas shopping so all that will be left is the wrapping and we are leaving now so we can be home before the kids get home from school.
9 games tonight and a bunch of terrible odds so I don't have any tips for tonight. I just don't have enough time to dive deep into the games. Sorry about this
Jackets vs Penguins
The played in October and the Pens won 6-3.
The Pens have won their last 2 and are at home where they have gone 6-3-2. The Jackets have gone 1-3-1 over their last 5 and 2-4-1 on the road.
Crosby and Malkin both were absent at practice on Monday so if one, or both, miss anytime the Pens will have to do some line shuffling.
Kings vs Senators
They played last week with the Sens winning 3-2 in OT.
The Kings away record, 6-5-2, is similar to the Sens home record of 6-7. So no advantage there. I'm skipping this one.
Blackhawks vs Devils
The Devils should win this game but by how many?
We would have to take the Devils -1.5 which are still pretty low odds of 1.76. I do think they can cover but it's barely over our minimum so I have to skip this game.
Wings vs Lightning
The Lightning have needed overtime in 3 of their last 7 games and 4 of their last 9. With them at home they have a good chance to win here but I would have to take them in regulation and as mentioned that's a tough play.
And the Wings Husso has better numbers than Vasilevskiy so this could be a good game.
Blues vs Islanders
Nothing from this game I like so I have to skip it.
Panthers vs Jets
The Panthers have won 2 in a row but are 4-3-3 over last 10. Jets won their last game and are 7-3 last 10.
I have to skip this one. The Panthers have some issues to work out and the Jets start games slow which is upsetting coach Bowness.
Leafs vs Stars
This has the potential to be a great game. Both teams are coming into this game after a high scoring one, the Leafs lost 4-3 to the Lightning in overtime, the Stars lost to the Wild 6-5 in a shootout.
Even with all the injuries to the Leafs blue line they are still playing well defensively as they are tied for 3rd in GAPG allowing 2.54.
The odds are a coin toss here. Both teams have had a few overtime losses in their last 10 with the Leafs 7-0-3 and the Stars 5-1-4.
Hurricanes vs Ducks
The Canes have won their last 4, the Ducks have lost their last 6.
The Ducks are 31st in GPG, 32nd in shots allowed and 32nd in GAPG. They are a mess in most categories ranking at, or near, the bottom in each.
We would have to take the Canes -1.5 which is a risky play when they are on the road so I have to skip.
Canadiens vs Kraken
Canadiens are 4-5-1 over last 10 which is pretty much they way their season has gone.
The Kraken are 7-2-1 over their last 10 and are in 2nd place in the Pacific.
Wright got called up by the Kraken and he will be facing the Canadiens who didn't take him 1st overall as was expected and it seemed like Wright stared the table down when he went 4th. Could make for an interesting game.
I want to take the Kraken here but after the loss Montreal took last night I'm sure it wasn't very pleasant in the dressing room and the Habs owe it to themselves and their fans to have a better game.
Follow @BetNHL
BetNHL.ca » Tonights Tips »