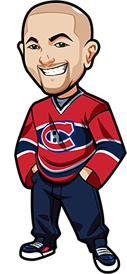 Written by Graeme on Friday, December 7th, 2018
Follow @BetNHL
Well it was an 0-1 day yesterday as the Leafs couldn't do the business.
Honestly 10 minutes in it looked that way – when they were up 1-0 – and I was surprised they were able to even mount that third period comeback.
Leafs are one of those teams that are ripe for live betting – you can just tell when they haven't shown up early on. They're coasting around, they're leaning on sticks etc – just not looking motivated.
Funnily enough due to their reputation and their ability you can get great odds against them during live betting. When the Red Wings were up 2-1 last night, Red Wings were still a 2.60 underdog on the money line.
We do a lot of live bets. We've experimented with doing live betting tips but we tend to go for higher variance plays and aren't super comfortable with advising them. Plus honestly a lot of the bets we place live are just for fun. Hard to differentiate at times. But if you aren't doing live betting I'd recommend it. Not only can you find some real value but like I said – it just adds to enjoyment of games.
We'd advise Sports Interaction for live betting in Canada, Bet365 (Americans: We recommend http://www.bovada.lv for live betting in Europe etc, and BetOnline. for Americans. A combination of good odds and the best interfaces.
After all that drama yesterday with the schools it was nice just being able to sit back with 5 screens on the go – 3 NHL games, 1 NFL game and 1 NBA game – and just drink beer, gamble and relax. Absolutely love sports. Both for the enjoyment of them and then how they take your mind off things by making you so goddamn frustrated. Seriously Toronto – when it's 4-4 why the hell did you take your feet off the gas? "Oh we tied thats good enough". FFS.
Also my god they have to replace Sparks. I was all for the Leafs giving him more games for match sharpness etc but that dude just doesn't have what it takes. Late in the third the puck bounced off both posts. Sparks heard the noises and just gave up and Reilly had to save him. I'll never back the Leafs again with him in net. Too bloody stressful.
Stars vs Sharks Betting Tips:
I love Dallas at home this season. I've said that a billion times on here. They are just one of those teams that never give up at home.
Since that team meeting, we've seen a much better performing Sharks team. They beat the Habs 3-1 in Montreal then had a big 5-1 win over the Hurricanes.
I've got to think they keep things going. Knowing how good Dallas are at home, I figure they raise their game as well in this one.
Both goalies of course can perform, but the Stars offense at home is someone I like and Sharks offense overall is solid enough. Stars are 2nd in total for GAA but I mean that's still 2.57 goals on average per game. Sharks have the 2nd best CF/60 in the league (behind of course – the Hurricanes) and 2nd best xGF/60. They're a team that can create the chances and while their finishing isn't as clinical as it should be – I'm happy to back their offense to get the goals tonight in the hope that that team meeting has spurred them on and will continue to do so for a little bit.
Sharks/Stars Over 5.5 Goals: 1u
Canada: 1.92 Odds at BetOnline..
USA: -115 Odds at GT Bets...
Everyone Else: 1.92 Odds at BetOnline..
(Odds correct as of 2018/12/07 10:40:34 AM EST but are subject to change.)
Ducks vs Canes Betting Tips:
I've been hesitant to back the Ducks but I think I've got to go with it here. If it's one of those games where the Canes show up or the Ducks don't – then it is what it is.
Canes were riding McElhinney pretty hard and the Sharks lit him up the other night. Got to be bad for his confidence. Has to concern the entire team really.
Ducks aren't a team I love backing. Just think of that winning run at the start of the season then how many they lost. But I am digging the fight in them at the moment. They're showing a lot of fight and I particularly liked the Caps game and the Blackhawks game.
Always wary of the Hurricanes of course so we will go with 0.5u on Ducks incl OT/SO if Gibson is in net.
Canada: 2.06 Odds at BetOnline..
USA: +100 Odds at GT Bets..
Everyone Else: 2.06 Odds at BetOnline..
(Odds correct as of 2018/12/07 10:40:34 AM EST but are subject to change.)
Jets vs Blues Betting Tips:
Another team I am wary of of course is the Winnipeg Jets, but I have to back them here.
They seem to struggle a fair bit with motivation during games. It's not like it is opponent dependent or anything – there's just games where the way they play one period compared to the next is incredibly different and can be frustrating to watch.
However looking at their results – most of their losses are against the better teams in the NHL. Stars in Dallas, Preds, Leafs, Wild. They haven't had many easy victories this season but they do appear to be able to beat these sort of teams.
Blues look like one of those teams with no confidence. Berube said it best the other day – that they look like they are trying to hold onto a lead, rather than trying to make it 3-0.
Jets should take this one. They're quite simply the better team and even if the Blues are able to rid themselves of that cautious approach, I'd fancy the Jets chances in an all out offensive game.
Jets in Regulation: 1u.
Canada: 1.83 Odds at BetOnline..
USA: -125 Odds at Bovada.
Everyone Else: 1.83 Odds at BetOnline..
(Odds correct as of 2018/12/07 10:40:34 AM EST but are subject to change.)
OHL / WHL / AHL / KHL / Czech Extraliga Betting Tips:
(All below systems are based mainly on mathematics and statistics with very little human input and are deemed experimental. )
OHL Betting Tips (8-9, -0.75u): 0.5u on Oshawa Generals incl OT/SO 1.76. 0.5u on Sudbury Wolves incl OT/SO 1.71. 0.5u on London Knights -3 at 2.06.
WHL Betting Tips (24-9, +7.15u): No tips today. System likes 4 heavy favourites if you want to parlay it up. PA, Calgary, Red Deer, Portland. Also likes Tri-City but odds just aren't good enough. Very marginal play.
AHL Betting Tips (9-12, -1.50u): 1u on Syracuse Crunch in reg at 1.75 odds. 0.5u on Texas Stars in reg at 1.85 odds.
Where To Bet the Non-NHL Leagues:
Canadians: Bodog and 888 Sports.
Americans: Bovada.
Everyone Else: 888 Sports.
Follow @BetNHL
BetNHL.ca » Tonights Tips »