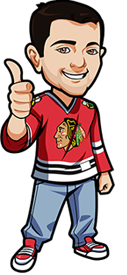 Written by Scott on Wednesday, December 7th, 2022
Follow @BetNHL
Had no tips yesterday and again I'm sorry about that.
The Devils shutout the Hawks 3-0. Vanecek had 24 saves for the Devils and Dougie Hamilton had a goal and 2 assists.
The Wings beat the Lightning 4-2 and I'm glad I avoided this game with Husso the difference for the Wings making 44 saves.
The Jets addressed the slow starts and beat the Panthers 5-2. They were up 2-1 after the 1st and 4-1 after the 2nd. Scheifele and Connor both scored twice.
The Habs beat the Kraken 4-2 and Wright scored for the Kraken which was his first goal in the NHL, the Leafs shutout the Stars 4-0 with Murray making 44 saves in the win and Ducks beat the Canes 4-3 in overtime.
7 games for us tonight.
Capitals vs Flyers
The Capitals won their last game without Kuemper against the Oilers. With a weaker team like the Flyers maybe they allow Kuemper the night off again and ride Lindgren.
The Flyers won their last game when they beat the Avalanche. It's worth mentioning that MacKinnon only played 5 minutes before he left with an injury. Over their last 10 games the Flyers are 2-6-2.
This should be a game the Caps win but they have been so up and down this season that I would much rather skip it to be safe.
Sabres vs Jackets
Over the last 10 games the Sabres are 4-5-1, the Jackets are 4-4-2.
The Sabres can score goals as they are ranked 3rd in the league averaging 3.8 per game but they can't stop the other team from scoring allowing 3.68 per game which has them ranked 28th.
The Jackets aren't scoring and they can't stop other teams from scoring on them. This is why I want to take the road team to win here. But it would need to be in regulation and as the road team I'm not comfortable doing that.
Wild vs Flames
The Wild have been playing well going 6-3-1 over last 10 and are riding a 4 game win streak. The Flames are 5-4-1 and have won their last 2.
The Wild are on the road where they have gone 6-3-1, the Flames are at home where they have went 9-5-1.
Both teams are playing well at the moment so it's tricky to try and guess who wins. I would lean towards a Flames win here but not confident enough to make it a tip.
Bruins vs Avalanche
The Bruins lost their last game which snapped their NHL record home win streak to start a season.
The Avalanche lost their last game and the loss wasn't the worst thing that happened to them that night. MacKinnon is out and is expected to miss about 4 weeks. They were already without Landeskog, Byram and more but the MacKinnon loss really hurts them. The Bruins should take advantage of this.
With the Avalanche now having to shuffle their lines to find a way to continue without MacKinnon for the next month they may take some time to get their stuff together. It's strange but a thing like this can sometimes bring the team together as they rally to stay competitive. But it should take more than one game for that to happen.
Bruins in regulation
Ontario: 2.00 Odds at Bet365 (Americans: We recommend http://www.bovada.lv
Rest of Canada: 2.00 Odds at Bet365 (Americans: We recommend http://www.bovada.lv
USA: -120 Odds at BetOnline.
Everyone Else: 2.00 Odds at Bet365 (Americans: We recommend http://www.bovada.lv
(Odds correct as of 2022/12/07 9:17:23 AM EST but are subject to change.)
Coyotes vs Oilers
The Coyotes have lost 5 in a row and are 28th in GPG, 32nd in shots per game and 22nd in GAPG. They are 1-6-3 over their last 10.
The Oilers lost the last game and are 5-5 over last 10 and only 1 of those 5 wins came by more than a goal. To get any value we have to take the Oilers -1.5 and recent results show that to be a tricky play.
Rangers vs Knights
If Shesterkin could play every game the Rangers would be in better shape in the standings. He is 10-4-4 with a 2.59 GAA and a .913 save percentage. The Rangers other goalie is Halak who has gone 1-6-1 with a 3.04 GAA and a .888 save percentage.
The Knights are at home for this one where they have gone 7-5. They are 6-3-1 over last 10 and have won their last 2 games.
The Rangers last 3 games had totals of 10, 7 and 5. The Knights last 3 were 7, 5 and 7. With the line set at 6 I fine taking the Over here.
Over 6 incl OT/SO
Ontario: 1.87 Odds at Sports Interaction (SIA) - Non-Ontario bet $10 get $200
Rest of Canada: 1.90 Odds at BetOnline.
USA: -110 Odds at BetOnline.
Everyone Else: 1.90 Odds at BetOnline.
(Odds correct as of 2022/12/07 9:17:23 AM EST but are subject to change.)
Canucks vs Sharks
The Canucks have won 2 straight, are 6-6-2 on the road and have gone 7-3 over last 10. The Sharks are on a 3 game losing skid, are 2-7-1 over last 10 and are at home where they have gone 2-8-4.
Either team has been very good this season so it make it an easy pass for me.
Follow @BetNHL
BetNHL.ca » Tonights Tips »