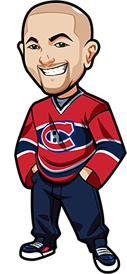 Written by Graeme on Saturday, December 8th, 2018
Follow @BetNHL
Well it wasn't the greatest night with the NHL Tips last night.
We had Stars/Sharks to go over but that one ended up being a 3-2 win for the Stars. There was a no goal call in the second that I think should have been one but overall that was another disappointing performance from the Sharks. They're one of those teams that I'm going to have to be careful with – it's like I want them to be better than they actually are. I went back and rewatched it more objectively this morning and it's crazy seeing what a difference their performance was in the first compared to the latter periods.
No complaints about the Jets losing. Just one of those games. Allen played an extremely rare elite level that he hasn't shown in a long time, and the Blues D did an excellent job at blocking shots. That's hockey.
Ducks lost and that result was why that was a 0.5u play. Not enough full confidence in the Ducks yet and the Canes can show up at times like that. That was one where it was the price that made it a play more than anything else.
Hopefully we can get a better night out of Saturday, December 8th 2018. Let's see what we got. I have a sneaky suspicion the Kings pull off a win today over the Knights. But I just don't think the odds are quite there enough for me to advise.
Red Wings vs Islanders Betting Tips:
Red Wings have been involved in a good couple of battles the last few games. I have a sneaky suspicion this will be another one.
Two teams floating around .500 and they've had some good scoring games between each other. Neither offense is exactly killing it this season and the Islanders have been very hot/cold lately.
I dunno it's just one of those games where I feel like both teams will see it as a winnable one and we'll see a high scoring game. One of those picks that are more based on feeling/opinion than stats.
0.5u on Over 6 Goals incl OT/SO
Canada: 1.86 Odds at Bet365 (Americans: We recommend http://www.bovada.lv.
USA: -115 Odds at Bovada.
Everyone Else: 1.86 Odds at Bet365 (Americans: We recommend http://www.bovada.lv.
(Odds correct as of 2018/12/08 10:59:08 AM EST but are subject to change.)
Penguins vs Senators Betting Tips:
I mean how can you not take the Penguins here? Duchene and Ryan both out. Duchene is their leading points scorer and Ryan is right up there too. Both huge losses. Duchene, Stone and Chabot were the three guys carrying this team and Stone and Chabot won't do it on their own.
That sort of thing is going to affect the Sens and require a lot of changes. Right now it seems their lines have excellent chemistry. This will hurt them. Pens are on a three game road trip but won't take the Sens lightly.
Pens also getting confidence under DeSmith which is nice. They're producing like the team they are meant to be and I think it would take a huge performance from the Sens here.
1u on Pens in regulation. I am SO close to doing 2u on this one but the Pens weak road form lately is the one thing that is keeping me away.
Canada: 1.82 Odds at 888 Sports.
USA: -120 Odds at Bovada.
Everyone Else: 1.82 Odds at 888 Sports.
(Odds correct as of 2018/12/08 10:59:08 AM EST but are subject to change.)
OHL / WHL / AHL / KHL / Czech Extraliga Betting Tips:
(All below systems are based mainly on mathematics and statistics with very little human input and are deemed experimental. )
Czech Extraliga Betting Tips (7-2, +2.87u): 0.5u on HC Ocelari Trinec at 1.78 odds.
OHL Betting Tips (10-10, -0.37u): 0.5u on Sarnia/Bulldogs/Icdeogs treble – all 3 in reg. 2.58 odds. Odds are good enough on all 3 you could do them in doubles instead if you want but I'll go for the added risk. 0.5u on Sudbury Wolves incl OT/SO 1.72.
WHL Betting Tips (24-9, +7.15u): 0.5u on Medicine Hat Tigers in reg at 1.62 odds. 0.5u double Portland/Spokane both in reg 2.00 odds. It likes Red Deer as well if you want to chuck them in a treble. 0.5u on Vancouver Giants in reg 1.75.
Where To Bet the Non-NHL Leagues:
Canadians: Bodog and 888 Sports.
Americans: Bovada.
Everyone Else: 888 Sports.
Follow @BetNHL
BetNHL.ca » Tonights Tips »