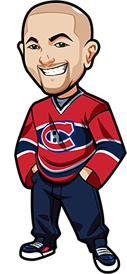 Written by Graeme on Friday, December 9th, 2022
Follow @BetNHL
0-1 last night. Stars got the win they needed alas, it wasn't in regulation. They got off to a great start going up 2-0, but the Sens pulled it back in the 1st period and they couldn't really get going after that although did have a couple good chances.
It's a busy Friday with a whole bunch of games so let's get right into it, because I've got World Cup football to watch very shortly. 'mon Croatia, pull off an upset.
Blue Jackets vs Flames:
Blue Jackets come in off that pounding by the Sabres. Calgary have strung a few wins together, althoughc ome in off some poor road results. They are 3-5-2 on the road for the season.
To back them it would have to be -1.5 on the road which I don't like. Even team total lines aren't great. I like them to score at least 3, probably 4 but over 3.5 is only 1.64. Not seeing any bets on this one. The over is a possibility but have to wonder how the Jackets react after that pounding.
Devils vs Islanders:
Devils come in pretty much still on fire. They've had some closer games lately but still crushing it. Islanders still finding their way, coming off that Blues loss. Islanders are competitive though this season, and are still competing in the Metro.
A lot of the advanced metrics are similar in this one. Devils create slightly more, and score more. Devils concede about 1 goal chance less, and then goaltending has been fantastic for them.
So it's an interesting one. Islanders should run them close, but Devils should still come out winners. Is it worth backing in regulation or not though? It's one of those that are close enough I have to look at empty net metrics. Islanders have bad success rate playing with one, while the Devils have conceded about 25% of the time playing against one.
A slight concern there, if it comes down to it. I dunno – I think this one is too close to call. I'm just not convinced Devils get the job done in regulation.
Sabres vs Penguins:
Ugh a Penguins road game. And yeah I know they're 7-5-2 on the road. That late October road trip is still just fresh in my memory.
Sabres offense comes in firing on all cylinders. Pens also doing well. Looking at this, Pittsburgh should put up the goals for sure. The question is do Buffalo? Last 10 stats, Pens goaltending has really helped them out.
Another team that has similar goaltending/defensive metrics as the Pens are the Devils, and the Sabres only got 1 against them. Leafs too (who concede a lot more chances) and Sabres got 2.
So this actually has me leaning Penguins. The odds to win incl OT aren't good enough, so it would have to be in regulation or the handicap.
Now these two teams did meet in Buffalo back on November 2nd and Penguins got thumped 6-3 so there is that to bear in mind. Buuut DeSmith was in net there.
I'm going to go with Penguins in regulation if Jarry starts. To be honest, I'm leaning towards Penguins -1.5 myself. But the odds at about 2.67 I'm not a big fan of. And who knows maybe the Buffalo offense, full of confidence, fires on all cylinders here. Or the Penguins woeful road team of the past come back to haunt us. But by the data, I do think Buffalo may have issues scoring here, and that we see big regression from their offense soon. Could be this game with Jarrys SV%.
Ontario: 2.15 Odds at Bet365 (Americans: We recommend http://www.bovada.lv
Canada: 2.15 Odds at Bet365 (Americans: We recommend http://www.bovada.lv
USA: +105 Odds at Bovada
Everyone Else: 2.15 Odds at Bet365 (Americans: We recommend http://www.bovada.lv
(Odds correct as of 2022/12/09 9:44:15 AM EST but are subject to change.)
Capitals vs Kraken:
Kraken slight underdogs on the road here. Washington return home after a decente nough road trip. Kraken are back to struggling with big losses at home to Montreal and Florida.
Washington seem to be trending upwards at the moment, while the Kraken with offense and defense is a right wildcard. I'm passing on this one although slight lean towards the Caps. But where the Kraken are concerned – anything can happen.
Blackhawks vs Jets:
Winnipeg come in on a good run. Jets just beat the Blackhawks back on the 27th 7-2 in Chicago.
Looking at the metrics, you can practically write "Jets will score at least 3 goals" in stone here. Of course it's hockey (and it's the Jets, ugh), but that had me looking for bets around that.
So I've been looking for bets related to that, and I'm going to go with Jets win the race to 3 goals, meaning there has to be 3 goals scored, and Winnipeg have to score them before Chicago. Jets have been generally fine at scoring on the road. Their rates do drop off a tad just road form primarily xGF but that's pretty standard.
Ontario: 2.00 Odds at Bet365 (Americans: We recommend http://www.bovada.lv
Canada: 2.00 Odds at Bet365 (Americans: We recommend http://www.bovada.lv
USA: -105 Odds at Bovada
Everyone Else: 2.00 Odds at Bet365 (Americans: We recommend http://www.bovada.lv
(Odds correct as of 2022/12/09 9:44:15 AM EST but are subject to change.)
Oilers vs WIld:
Oilers are one of those teams I'm happy to generally skip right now. The overs is no doubt a popular play in this one. I feel like it's certainly a possibility, but I'm not in love with it. Wild are drastically overperforming. It looks like Campbell is in net so they should have no trouble. If it's Skinner, I actually kind of like the under here.
Avs vs Rangers:
No thanks man. Gun to my head I couldn't tell you if the Rangers would win a game against any random opposition or not. By the metrics they're probably a tad overvalued here but eh I have no interest in the Avs right now either.
Coyotes vs Bruins:
Man what is with all the possible bets today being road teams? Obviously Bruins are a team you want to consider, but at -1.5 only 1.80 I'm so fine with skipping this.
Ducks vs Sharks:
Books have this close to a coinflip with a slight edge to the Sharks and I'd agree. Sharks are like half a goal better than the Ducks. I actually don't hate the Sharks bet here but it's just so hard to back them with how their results are going.
This does seem like one of those "right the ship" games. It's funny how the betting tips are though – I've already backed two teams and both on the road, so both of those make me a bit hesitant to add onto that. While if I hadnt tipped anything and we had got this far, I'd be more likely to back this one I think.
I'm very close to making this a play. But the Ducks just getting that win over the Canes, and apparently Makiniemi is confirmed? Okay I gotta run away from this one then. Wish I had saw that confirmed prior to spending so bloody long looking at all of the metrics here!
Knights vs Flyers:
I really don't think the Knights should be such heavy favourites here. Ludicrous odds. And when you take out the Flyers discipline issues and remove penalty kills etc from the stats, it's a fair bit close.
I can't come out and advise it, but at 3.20+ odds, the Flyers I think are worth a small bet for value.
Follow @BetNHL
BetNHL.ca » Tonights Tips »